PA TV airs clip honoring terrorists seven times in three days
Itamar Marcus and Nan Jacques Zilberdik
|
Terrorists who killed 6 lauded as "heroes"
in clip shown seven times
in three days on PA TV

by Itamar Marcus and Nan Jacques Zilberdik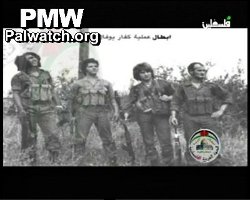 "The heroes of the Kfar Yuval operation",
PA TV (Fatah), Oct. 10-12, 2010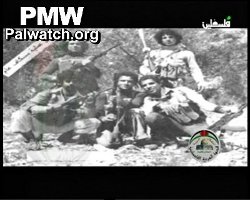 "The heroes of the Misgav Am operation",
PA TV (Fatah), Oct. 10-12, 2010
A clip broadcast seven times in three days on PA TV labeled Palestinian terrorists as "heroes" for having murdered six Israelis in two terror attacks. PA TV showed the clip to coincide with the anniversary celebrations of the Palestinian Arab Front (formerly Arab Liberation Front), the organization that carried out the attacks in 1975 and 1980.

The TV clip glorified the terror attacks by showing two pictures of the terrorists who committed the attacks, with captions that read, "The heroes of the Kfar Yuval operation" and, "The heroes of the Misgav Am operation."

The attack on Kfar Yuval
On June 15, 1975, terrorists from the Arab Liberation Front penetrated the Israeli village Kfar Yuval near the Lebanese border. Four terrorists seized control of one of the homes and held its inhabitants hostage. Three Israelis were killed.

The attack on Misgav Am
On April 7, 1980, five terrorists from the Arab Liberation Front took control of the children's house in Kibbutz Misgav Am in northern Israel, holding the children hostage. They killed two adults and one child before they were subdued by the Israeli army.

Background to clip:
The Arab Liberation Front was founded in Iraq in 1969, and carried out terrorist attacks in Israel in the 1970s and '80s. After the Oslo Accords, there was a split in the organization. It changed its name to the Palestinian Arab Front, which still has offices in Ramallah and Gaza.

To celebrate the 42nd anniversary of the founding of the Arab Liberation Front and the 17th anniversary of its name change to the Palestinian Arab Front, the organization held ceremonies in October this year in Tulkarem in the Palestinian Authority and in Gaza.