PA cartoon: "Palestine" replacing Israel comes before education
Itamar Marcus and Nan Jacques Zilberdik
|
Replacing Israel with "Palestine"
more important than education:
PA daily cartoon

by Itamar Marcus and Nan Jacques Zilberdik

The idea of a "Palestine" that replaces Israel is more important to Palestinian children than education. That was the message of a cartoon in the official PA daily newspaper last week. A second message in the cartoon was that Palestinian youth are prepared to use violence.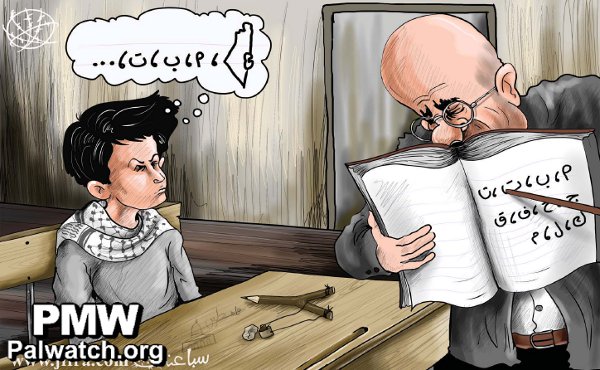 [Text in teacher's book: "a, b, c, d, e, f ... p, q r, s, t..."
Text in child's mind: "[Map of Palestine covering Israel] a, b, c..."
Note that Arabic is read from right to left.]
[Al-Hayat Al-Jadida, Oct. 19, 2010]
The cartoon shows a teacher teaching a Palestinian child the letters of the alphabet. However, the text in the child's mind shows that he visualizes the map of "Palestine" replacing all of Israel before he starts learning the alphabet. The cartoon also carries a message of violence, as the child's pencil is shaped as a slingshot with a stone next to it.
Palestinian Media Watch has documented that during the five years of the Palestinian terror campaign, from 2000 - 2005, the Palestinian Authority used all the communication channels it controlled to actively encourage children to participate in the violence.
Click here
to view PA TV clip from 2001 telling children to throw away their toys and pick up stones.
See PMW's website
for additional examples of how "Palestine" replaces Israel in the PA.