PA youth see terrorists as role models deserving honor
Itamar Marcus and Nan Jacques Zilberdik
|
PA youth see terrorists
as role models deserving honor

by Itamar Marcus and Nan Jacques Zilberdik
A group of young Palestinians, including participants from the Fatah youth movement high-school councils in the district, proposed last week to name a street in Nablus after the terrorist Dalal Mughrabi, who led the most deadly terror attack in Israeli history: a 1978 bus hijacking in which 37 civilians were killed.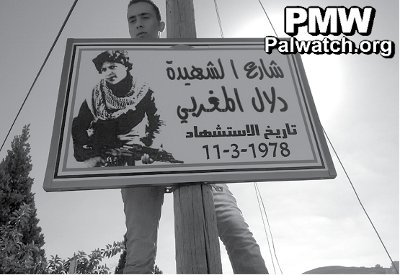 Text:
"Shahida (Martyr) Dalal Mughrabi Street Date of Martyrdom 11.3.1978"
[Al-Hayat Al-Jadida, Nov. 4, 2010]
The group said the suggestion to name the street "Shahida (Martyr) Dalal Mughrabi Street" was a protest against Israel's objections to the PA's planned inauguration in March this year of a public square in Ramallah named after Mughrabi.
Israel strongly condemned this as an act of incitement to violence.

That young Palestinians view terrorist Dalal Mughrabi as a Shahida (Martyr) and a hero deserving honor is the result of the PA's ongoing policy of turning terrorists into role models.

Click here to see PMW report, "From Terrorists to Role Models".

Click here to see recent PMW reports on the PA policy of honoring terrorists:
Terrorists who threw grenades near Western Wall are "heroes"
PA TV airs clip honoring terrorists seven times in three days
PA minister honors mother for having 4 terrorist sons

PMW reported extensively on the PA's intention to name the Ramallah square after Dalal Mughrabi:

The following article on the proposed naming of street after Mughrabi appeared in the Al-Quds newspaper:
Headline: "Youth initiative to name one of the city's streets after the Shahida (Martyr) Dalal Mughrabi"
"A group of youth in Nablus, with the participation of the Shabiba (the Fatah youth movement) high-school councils in the district, named one of the main streets in the city after the Shahida (Martyr) Dalal Mughrabi.
The person responsible for the project, Hasan Al-Faqih, said that the initiative is a challenge to the interventions by the Israeli government, aimed at erasing the memory of the Shahids (Martyrs), such as the Shahida (Martyr) Dalal Mughrabi, from the consciousness of future generations, claiming that this [commemorating the Shahids] represents incitement against the occupation... Rashida Mughrabi congratulated the group which initiated the opening of the street named after her sister, the Shahida (Martyr) Dalal. She demanded that special efforts be made to inaugurate the Shahida Dalal Mughrabi square in the city of Ramallah, whose inauguration had been prevented by the occupation. Mughrabi called to act for the release of the Shahida Dalal's body and to bury her in the homeland for whose liberation she sacrificed her life."
[Al-Quds, Nov. 4, 2010]