Arab riots and Hamas rockets achieved "victory," says Abbas' rival
Video posted on Facebook page of former Fatah leader Muhammad Dahlan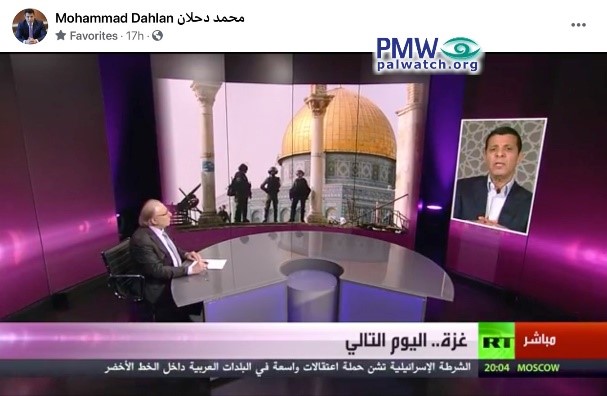 Video:
The video shows an interview of former Fatah top official Muhammad Dahlan with RT TV Arabic (Russia).
Former Fatah top official Muhammad Dahlan: "I don't want to get into giving names – 'victory' and the like – but I can say with certainty, with pride, and with honor that the Palestinian people has restored the Palestinian cause to being on the international community's agenda (refers to violent Arab riots and Hamas rocket barrages; see note below -Ed.). The Palestinian people is the one that made US President [Joe Biden] speak with [Israeli Prime Minister Benjamin] Netanyahu, whom he has boycotted six times. The Palestinian people is the one that forced the American administration to advance the Egyptian coordination and that President Biden would speak with [Egyptian] President [Abdel Fattah] El-Sisi, who hurried to stop this attack. The Palestinian people is the one that motivated these masses – from America to Europe to Asia – to the point that half of the world's residents monitored the killing and destruction in Jerusalem and the Gaza Strip by Israel against the Palestinian people. Therefore, this is a victory of the will of unity. It is a victory of the unity of the Palestinian people – the residents of the Gaza Strip, Jerusalem, the West Bank, and our people in the 1948 [territories] (i.e., Israel)…
Yes, it is a great achievement. And if you like, it is a historic turning point in the Palestinian people's history and in the partition between the past and the future.
The Palestinian people took the reins in its hands without its leadership and did not ask for authority from anyone. It rose up in Jerusalem, the Gaza Strip identified with it, and the West Bank was dragged after it. Afterwards, the crown of this operation was that our people in the 1948 [territories] worked to defend the Al-Aqsa Mosque and to identify with our people in Jerusalem. Therefore, this beautiful picture that the Palestinian people drew with its sacrifices, its Martyrs, its wounded, and with all these acts of heroism that we saw from the Gaza Strip, came to say that Jerusalem is a red line and is baptized in Palestinian blood, and not slogans of one kind or another …
I must mention an important point. For the past 15 years – and a number of Palestinian leaders in Ramallah have repeated this – Israel has attempted to defeat the Palestinian consciousness. Secondly, Israel has attempted and succeeded, until these latest actions, in thwarting these plans – [it succeeded in] removing the legal cover from every Palestinian national action, even in words; not armed struggle, not in politics, not in protests, not in demonstrations that are held peacefully – even if you throw a rose at an Israeli soldier it will be considered forbidden and illegal. In other words, every kind of resistance is turned into a crime. Therefore, we are a people under occupation, and we have the right to resist the occupation in a way that international law allows. But we prefer different and diverse ways, everything in its proper time and place. The first popular Intifada in 1987 (i.e., Palestinian wave of violence and terror against Israel, approximately 200 Israelis murdered, 1987-1993) was a popular intifada – children, women, leaders, adults, and youth participated in it – and therefore we achieved international sympathy. We lost in a number of battles in the second Intifada (i.e., PA terror campaign 2000-2005, more than 1,100 Israelis murdered) because it was armed."
Fatah/Hamas Riot and Rocket War 2021 – On April 30, 2021, facing certain electoral defeat, PA Chairman Mahmoud Abbas cancelled the first PA elections scheduled in 15 years. Hamas, which expected to win the elections, denounced it as a "coup." In need of a conflict to divert public discontent, Abbas artificially generated a crisis over Jerusalem. His Fatah party called for "raising the level of confrontation," and Abbas' spokesman told Palestinians "the battle of all battles is here." Jerusalem Arabs responded by attacking Jews with rocks and Molotov cocktails. Hamas, Abbas' political rival, could not allow Abbas to lead the battle, so on May 10, 2021, Hamas launched rocket barrages targeting Israeli population centers including Jerusalem. Over the next 11 days, Hamas and Islamic Jihad fired over 4,300 rockets into southern and central Israel from the Gaza Strip, killing 9 Israelis and 3 foreign nationals, and wounding hundreds. In response, Israel launched Operation Guardian of the Walls to target Hamas terror leaders and terror infrastructure in the Gaza Strip. Already in mid-April, a planned eviction of some Palestinian families illegally living in Jewish-owned buildings in the Sheikh Jarrah neighborhood of Jerusalem had led to clashes between Palestinian residents and Israeli police. This dispute provided Palestinians with a pretext for violent rioting. Adding to the crisis, Israeli Arabs started rioting throughout Israel, especially in cities with a mixed Jewish and Arab population. Two Jews were murdered and many were wounded. According to Walla, an independent Israeli news site, 10 synagogues were wholly or partly burned down; fires were set in 112 Jewish homes and 1 Arab home mistaken for a Jewish home; 386 Jewish homes were plundered and 673 were damaged; 849 cars were set ablaze; and there were 5,018 rock-throwing attacks. In response, Jews started attacking Arabs and their properties as well, but on a much smaller scale. No mosques were burned; 13 Arab homes were damaged; 13 Arab-owned cars were burned; and there were 41 rock-throwing attacks by Jews. [Walla, May 16, 2021] The fighting between Israel and Hamas ended with a ceasefire on May 21, 2021.