Hamas' abuse of kids in Gaza: "If we die, we'll die as Martyrs" - Hamas spokesman's young daughter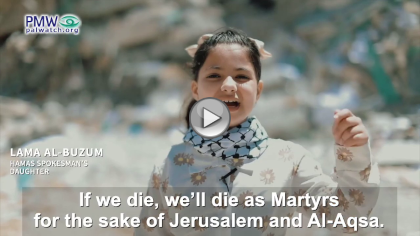 "Our land [is] Palestine from the [Jordan] River to the [Mediterranean] Sea… Israel will be destroyed"

Children in Gaza taught to seek martyrdom-death, chant: "Millions of Martyrs are marching to Jerusalem"
Meet Lama. She is the young daughter of Hamas' Ministry of Internal Affairs' spokesman Iyad Al-Buzum. He posted this video of her amid Hamas' rocket barrage against Israel last month.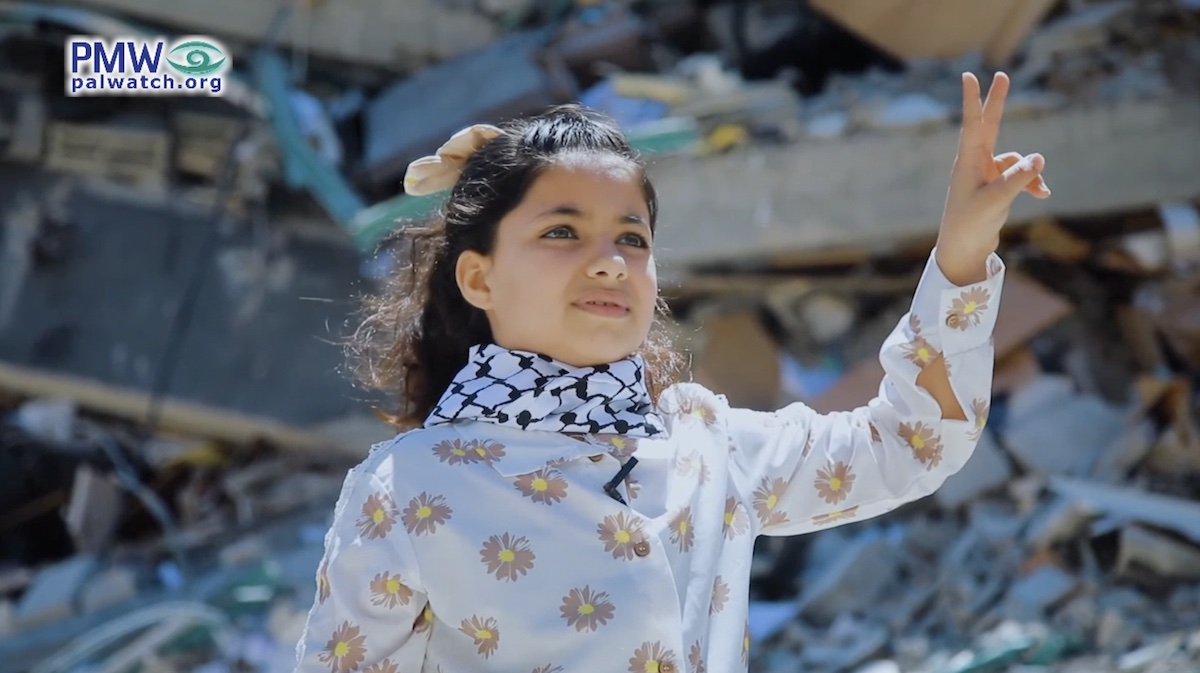 Child abuse? Decide for yourself:
Hamas spokesman's daughter Lama Al-Buzum:
"If we die, we'll die as Martyrs for the sake of Jerusalem and Al-Aqsa"
The young girl also reiterates Hamas' uncompromising stand that Israel "will be destroyed" and that "Palestine" encompasses all the State of Israel – from the Jordan River to the Mediterranean Sea, including Israeli cities such as Ashkelon, Haifa, Jaffa, Safed, and Beit Shean:
Hamas spokesman's daughter Lama Al-Buzum: "If we die, we'll die as Martyrs for the sake of Jerusalem and Al-Aqsa. And if we live, we'll live in dignity and glory… We'll return to Palestine... We'll return to Ashkelon, Haifa, Jaffa, Safed, and Beit Shean (i.e., all Israeli cities) – to all of Palestine, and we will pray at Al-Aqsa. When the occupying Jews occupied our land, they said: 'The adults will die and the children will forget.' Today we tell them: It's true, the adults died, but they taught us and raised us not to forget our land. These children have grown, and we are the ones who will return to our land Palestine from the [Jordan] River to the [Mediterranean] Sea: the Gaza Strip, the West Bank, Jerusalem, and the 1948 [territories] (i.e., Israel). We tell them: All of Palestine is one, and Israel will be destroyed."

[Facebook page of Hamas Ministry of Internal Affairs spokesman Iyad Al-Buzum, May 19, 2021]
Those who are criticizing Israel and its self-defense against Hamas' 4,300 rockets, which inevitably resulted in civilian casualties in Gaza, should look at what the leadership in Gaza teaches their children.
This video shows Gazan kids chanting former PA and PLO chairman Yasser Arafat's infamous words encouraging Palestinians to seek death as "Martyrs": "Millions of Martyrs are marching to Jerusalem":
Children in Gaza: "Millions of Martyrs are marching to Jerusalem, millions of Martyrs,
Millions of Martyrs, millions, are marching to Jerusalem,
Martyrs are marching to Jerusalem,
Millions of Martyrs are marching to Jerusalem, Martyrs are marching"

[Official PA TV, Palestine This Morning, May 25, 2021]
Palestinian Media Watch has exposed that both the PA and Hamas abuse children by indoctrinating them to be Martyrs.
PMW also recently reported that the PA/Fatah likewise anticipate that "Palestine" will be "liberated" and replace Israel "from the river to the sea" as Lama, the daughter of the Hamas spokesman, was taught to envision:
​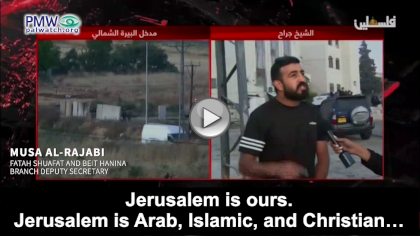 ​
Fatah Shuafat and Beit Hanina Branch Deputy Secretary Musa Al-Rajabi: "We are remaining here. Jerusalem won't agree to being divided in two. Jerusalem is ours. Jerusalem is Arab, Islamic, and Christian… We'll protect Sheikh Jarrah as we're protecting the Al-Aqsa Mosque. We'll protect the Damascus Gate as we're protecting the Lions' Gate. We'll rise up every day against this tyrannical occupation that is heavily armed … We'll continue to confront it with bare chests until the liberation of Palestine – Palestine from the [Mediterranean] Sea to the [Jordan] River, Palestine which is Arab and Islamic. It will remain ours."

[Official PA TV, May 18, 2021]
Fatah/Hamas Riot and Rocket War 2021 – On April 30, 2021, facing certain electoral defeat, PA Chairman Mahmoud Abbas cancelled the first PA elections scheduled in 15 years. Hamas, which expected to win the elections, denounced it as a "coup." In need of a conflict to divert public discontent, Abbas artificially generated a crisis over Jerusalem. His Fatah party called for "raising the level of confrontation," and Abbas' spokesman told Palestinians "the battle of all battles is here." Jerusalem Arabs responded by attacking Jews with rocks and Molotov cocktails. Hamas, Abbas' political rival, could not allow Abbas to lead the battle, so on May 10, 2021, Hamas launched rocket barrages targeting Israeli population centers including Jerusalem. Over the next 11 days, Hamas and Islamic Jihad fired over 4,300 rockets into southern and central Israel from the Gaza Strip, killing 9 Israelis and 3 foreign nationals, and wounding hundreds. In response, Israel launched Operation Guardian of the Walls to target Hamas terror leaders and terror infrastructure in the Gaza Strip. Already in mid-April, a planned eviction of some Palestinian families illegally living in Jewish-owned buildings in the Sheikh Jarrah neighborhood of Jerusalem had led to clashes between Palestinian residents and Israeli police. This dispute provided Palestinians with a pretext for violent rioting. Adding to the crisis, Israeli Arabs started rioting throughout Israel, especially in cities with a mixed Jewish and Arab population. Two Jews were murdered and many were wounded. According to Walla, an independent Israeli news site, 10 synagogues were wholly or partly burned down; fires were set in 112 Jewish homes and 1 Arab home mistaken for a Jewish home; 386 Jewish homes were plundered and 673 were damaged; 849 cars were set ablaze; and there were 5,018 rock-throwing attacks. In response, Jews started attacking Arabs and their properties as well, but on a much smaller scale. No mosques were burned; 13 Arab homes were damaged; 13 Arab-owned cars were burned; and there were 41 rock-throwing attacks by Jews. [Walla, May 16, 2021] The fighting between Israel and Hamas ended with a ceasefire on May 21, 2021.