Abbas gives terrorist murderer's family over $42,000 to buy a home
Image and text posted on the Facebook page of Ramallah and El-Bireh District Governor Laila Ghannam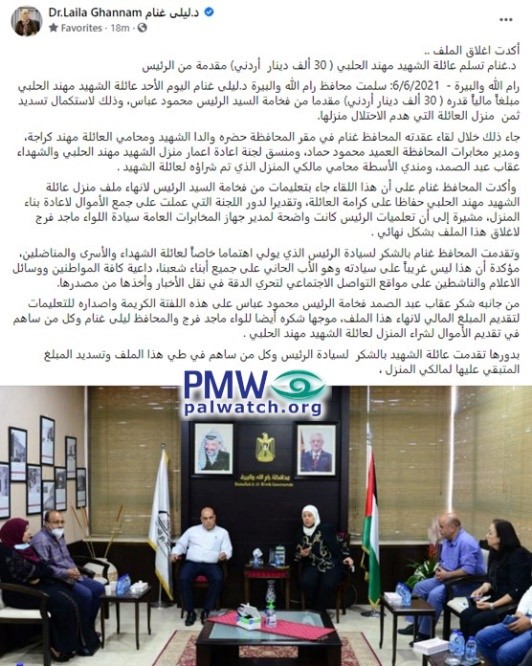 Posted text: "Ramallah and El-Bireh District Governor Dr. Laila Ghannam gave the family of Martyr Muhannad Halabi (i.e., terrorist, murdered 2) a sum of 30,000 Jordanian dinars (over $42,000 -Ed.) today, Sunday [June 6, 2021], which was provided by His Honor [PA] President Mahmoud Abbas, in order to complete the amount needed to purchase the home of the family, whose home the occupation destroyed. This was during a meeting that District Governor Ghannam held in the presence of the Martyr's parents and the family's lawyer…
District Governor Ghannam emphasized that the meeting took place under the instructions of His Honor the president in order to resolve the matter of the home of Martyr Muhannad Halabi's family, so as to protect the dignity of the family, and out of appreciation for the role of the committee that worked diligently to raise money to rebuild the home. She noted that the president's instructions to Head of [PA] General Intelligence Majed Faraj were clear: Resolve the matter once and for all.
The district governor thanked the president, who is dedicating special attention to the families of the Martyrs, prisoners, and fighters, and emphasized that this is not foreign to His Honor [the president], as he is the compassionate father of all our people. She called on all the citizens, media outlets, and activists on social media to strive for precision when reporting news items, and to take them from their source…
The Martyr's family thanked His Honor the president and all those who donated to complete this matter and to pay the amount that was left for it to pay to the owners of the home."
The image shows Ramallah and El-Bireh District Governor Laila Ghannam meeting with the family of terrorist Muhannad Halabi.
Muhannad Halabi - 19-year-old Palestinian terrorist who murdered 2 Israelis, Rabbi Nehemiah Lavi and Aharon Bennett, and - contrary to what Abbas Zaki claims in this speech - injured Bennett's wife, Adele, and their 2-year-old son in a stabbing attack in the Old City of Jerusalem on Oct. 3, 2015. Following the attack, he was shot and killed by Israeli security forces. Prior to his attack, the terrorist wrote on Facebook that a "third Intifada" had begun.