Abbas' deputy honors terrorists, including recent stabber
Headline: "Ramallah: Fatah establishes a mourners' tent for the Martyrs of the Israeli aggression"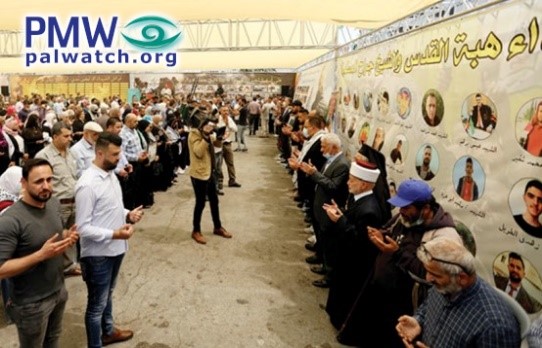 "The Fatah Movement established a mourners' tent in Ramallah yesterday [May 25, 2021] for the Martyrs of the uprising of the Al-Aqsa Mosque, the Sheikh Jarrah [neighborhood of Jerusalem], the Gaza Strip, and the 1948 territories (i.e., Israel; refers to violent Arab riots and Hamas rocket barrages, see note below).
Fatah Movement Deputy Chairman [and Fatah Central Committee member] Mahmoud Al-Aloul said: 'Today we are eulogizing a large number of Martyrs who ascended [to Heaven] while defending Jerusalem and Palestine throughout the homeland, including Lebanese Martyr Muhammad Al-Tahhan (i.e., rioter who breached the Israeli border with Lebanon during riots and was shot by Israeli soldiers defending the border).' He noted: 'All the Martyrs are our children, and they dwell in our hearts, our minds, and our souls.'
He emphasized that our people are standing firm everywhere and said that 'The occupation did not take into account the value of Jerusalem in the souls and minds of all the Palestinians, for whose sake [former PLO Chairman and PA President] Martyr Yasser Arafat and the rest of the Martyrs died. It is part of the faith, and it cannot be that we would allow it to be ignored.' …
Al-Aloul continued: 'We have succeeded in restoring to the Palestinian cause and Jerusalem their status in the world and the international forums, and we have pulled the attention back to Palestine. We must take advantage of what we have achieved through our unity, and we this must not be lost. Thus, we will lay the basis for an international stand alongside the Palestinian people, which will lead it towards an international conference and reining in the occupier.' …
The father of Lebanese Martyr Muhammad Al-Tahhan said in a recorded speech: 'I am proud that my son Muhammad chose the path of Martyrdom-death and watered the borders of Palestine with his blood. In this way he sacrificed his soul for the sake of the Al-Aqsa Mosque and Jerusalem, which proves our partnership that is soaked in the blood of the Martyrs, and that we are remaining committed to the promise until the homeland's liberation.'"
The article includes an image from the event in which participants are seen standing in prayer. On the right side of the picture is a large background poster, and on the right edge of it in the center row is terrorist Zuhdi Al-Tawil, who wounded 2.
Fatah/Hamas Riot and Rocket War 2021 – On April 30, 2021, facing certain electoral defeat, PA Chairman Mahmoud Abbas cancelled the first PA elections scheduled in 15 years. Hamas, which expected to win the elections, denounced it as a "coup." In need of a conflict to divert public discontent, Abbas artificially generated a crisis over Jerusalem. His Fatah party called for "raising the level of confrontation," and Abbas' spokesman told Palestinians "the battle of all battles is here." Jerusalem Arabs responded by attacking Jews with rocks and Molotov cocktails. Hamas, Abbas' political rival, could not allow Abbas to lead the battle, so on May 10, 2021, Hamas launched rocket barrages targeting Israeli population centers including Jerusalem. Over the next 11 days, Hamas and Islamic Jihad fired over 4,300 rockets into southern and central Israel from the Gaza Strip, killing 9 Israelis and 3 foreign nationals, and wounding hundreds. In response, Israel launched Operation Guardian of the Walls to target Hamas terror leaders and terror infrastructure in the Gaza Strip. Already in mid-April, a planned eviction of some Palestinian families illegally living in Jewish-owned buildings in the Sheikh Jarrah neighborhood of Jerusalem had led to clashes between Palestinian residents and Israeli police. This dispute provided Palestinians with a pretext for violent rioting. Adding to the crisis, Israeli Arabs started rioting throughout Israel, especially in cities with a mixed Jewish and Arab population. Two Jews were murdered and many were wounded. According to Walla, an independent Israeli news site, 10 synagogues were wholly or partly burned down; fires were set in 112 Jewish homes and 1 Arab home mistaken for a Jewish home; 386 Jewish homes were plundered and 673 were damaged; 849 cars were set ablaze; and there were 5,018 rock-throwing attacks. In response, Jews started attacking Arabs and their properties as well, but on a much smaller scale. No mosques were burned; 13 Arab homes were damaged; 13 Arab-owned cars were burned; and there were 41 rock-throwing attacks by Jews. [Walla, May 16, 2021] The fighting between Israel and Hamas ended with a ceasefire on May 21, 2021.
Yasser Arafat – Founder of Fatah and former chairman of the PLO and PA. During the 1960s, 70s and 80s Arafat was behind numerous terror attacks against Israelis. Although he received the Nobel Peace Prize in 1994 together with then Israeli Prime Minister Yitzhak Rabin and then Israeli Minister of Foreign Affairs Shimon Peres "for their efforts to create peace in the Middle East" after signing the Oslo Accords peace agreement, Arafat launched a 5-year terror campaign - the second Intifada (2000-2005) – in which more than 1,000 Israelis were murdered. Arafat died of an illness in 2004.
Zuhdi Al-Tawil - 17-year-old Arab terrorist from Jerusalem who stabbed and wounded two Israelis near the Israeli Police National Headquarters in Jerusalem, near Ammunition Hill, on May 24, 2021, before being shot and killed by an Israeli border patrol officer at the scene.