Minister of Religious Affairs at tree-planting event honoring prisoners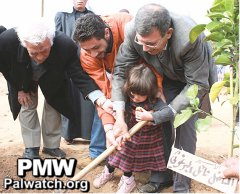 A young girl plants a tree in honor of Nael Barghouti,
sentenced to life imprisonment for killing an Israeli officer in 1978
"The Al-Quds Open University and [Fatah's] Shabiba Student Movement, in cooperation with the Ministry of Prisoners' Affairs, held a ceremony yesterday morning during which a tree was planted for each of the prisoners from the Jericho and [Jordan] Valley district in the occupation's [Israel's] prisons.
Present at the tree-planting ceremony were the Minister of Prisoners' Affairs, Issa Karake; Jericho and [Jordan] Valley District Governor Majed Al-Fetyani; and member of the Fatah Central Committee, Tawfiq Al-Tirawi…
In his speech, Minister Karake said: 'Our prisoners are a symbol of the cause, and there will be no peace until all the Palestinian prisoners are freed without differentiation, because it is they who have illuminated our path to freedom, like our Shahids (Martyrs), who have watered the land of Palestine with their pure blood for our sake and for the sake of its liberation.' …
In his speech Al-Tirawi said: 'The release of our prisoners and the establishment of our independent state will be achieved only through resistance (i.e., violence), for Allah loves those who are strong… The US meddles in our region, and we of the Palestinian leadership pin great hopes on the consciousness of our fighting nation, which consistently prevents all the plots which are devised against it.'
And regarding the same matter, the Mayor of Jericho, Lawyer Hassan Saleh, met yesterday afternoon in his office with the family of prisoners Fakhri and Nael Barghouti, who were given life sentences in Israeli prisons and have served 33 years. Saleh praised their resolve and emphasized the importance of the prisoners' cause…'."

Note: Nael and Fakhri Barghouti - members of the Fatah terror unit who killed an Israeli officer in 1978. They are serving life sentences for this killing.