Scouts in pro-terror event in Lebanon are part of the Palestinian Scout Association
Image and text posted on the Facebook page of the Palestinian Scout Association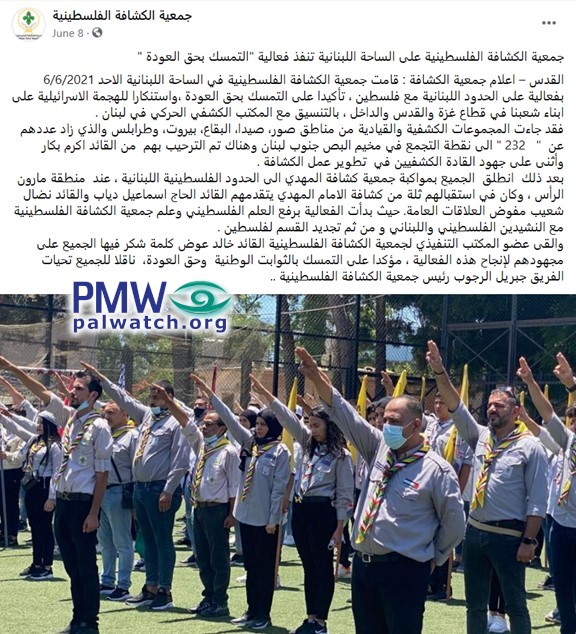 The image shows scouts in uniform extending three fingers in the scout salute while raising their arms in a Nazi-like salute. The Palestinian flag is visible on their uniforms, as is the Palestinian Scout Association logo.
Posted text: "The Palestinian Scout Association (PSA) in the Lebanese arena carries out the 'Holding onto the Right of Return' activity
Jerusalem – PSA information [department] – The PSA in the Lebanese arena held an activity on the Lebanese-Palestinian (i.e., Israeli) border on Sunday, June 6, 2021, in coordination with the Lebanese Scouting Movement Office (i.e., apparently part of the Lebanese Scouting Federation), in order to emphasize the [Palestinian refugees'] right of return and to condemn the Israeli attack on our people in the Gaza Strip, Jerusalem, and the Interior (i.e., Palestinian term for Israel; refers to Israeli defensive measures in response to violent Arab riots and Hamas rocket barrages, see note below).
Scout groups and leaders from the districts of Tyre, Sidon, Beqaa, Beirut, and Tripoli – more than 232 people – came to the meeting point at the Al-Bas [refugee] camp in southern Lebanon, and there they were received by [Fatah] leader [in Lebanon] Akram Bakkar who praised the efforts of the scout leaders…
Afterwards they all set out while accompanied by the [Imam] Al-Mahdi Scouts Association (i.e., a Hezbollah affiliated scouts organization) to the Palestinian-Lebanese border in the Maroun Al-Ras area, and there they were received by a group from the Imam Al-Mahdi Scouts led by leader Haj Ismail Diab and [Imam Al-Mahdi Scouts Association] Commissioner of Public Relations leader Nidal Shuaib. The activity began with waving the Palestinian flag and the PSA flag and singing the Palestinian and Lebanese anthems, and afterwards the oath to Palestine was renewed.
PSA Executive Office member leader Khaled Awad gave a speech and thanked everyone for the efforts for the success of the activity. He emphasized holding onto the national rights and the right of return, and he conveyed to everyone the blessings of PSA Chairman Maj. Gen. Jibril Rajoub."
Jibril Rajoub also serves as Head of the PLO Supreme Council for Youth and Sports, Chairman of the Palestinian Football Association, Chairman of the Palestine Olympic Committee, and Chairman of the Palestinian Scout Association (PSA).
Fatah/Hamas Riot and Rocket War 2021 – On April 30, 2021, facing certain electoral defeat, PA Chairman Mahmoud Abbas cancelled the first PA elections scheduled in 15 years. Hamas, which expected to win the elections, denounced it as a "coup." In need of a conflict to divert public discontent, Abbas artificially generated a crisis over Jerusalem. His Fatah party called for "raising the level of confrontation," and Abbas' spokesman told Palestinians "the battle of all battles is here." Jerusalem Arabs responded by attacking Jews with rocks and Molotov cocktails. Hamas, Abbas' political rival, could not allow Abbas to lead the battle, so on May 10, 2021, Hamas launched rocket barrages targeting Israeli population centers including Jerusalem. Over the next 11 days, Hamas and Islamic Jihad fired over 4,300 rockets into southern and central Israel from the Gaza Strip, killing 9 Israelis and 3 foreign nationals, and wounding hundreds. In response, Israel launched Operation Guardian of the Walls to target Hamas terror leaders and terror infrastructure in the Gaza Strip. Already in mid-April, a planned eviction of some Palestinian families illegally living in Jewish-owned buildings in the Sheikh Jarrah neighborhood of Jerusalem had led to clashes between Palestinian residents and Israeli police. This dispute provided Palestinians with a pretext for violent rioting. Adding to the crisis, Israeli Arabs started rioting throughout Israel, especially in cities with a mixed Jewish and Arab population. Two Jews were murdered and many were wounded. According to Walla, an independent Israeli news site, 10 synagogues were wholly or partly burned down; fires were set in 112 Jewish homes and 1 Arab home mistaken for a Jewish home; 386 Jewish homes were plundered and 673 were damaged; 849 cars were set ablaze; and there were 5,018 rock-throwing attacks. In response, Jews started attacking Arabs and their properties as well, but on a much smaller scale. No mosques were burned; 13 Arab homes were damaged; 13 Arab-owned cars were burned; and there were 41 rock-throwing attacks by Jews. [Walla, May 16, 2021] The fighting between Israel and Hamas ended with a ceasefire on May 21, 2021.