Fatah cartoon justifies murder of soldier citing demolition of a terrorist's house
Cartoon published on Falestinona, the website of Fatah's Information and Culture Commission in Lebanon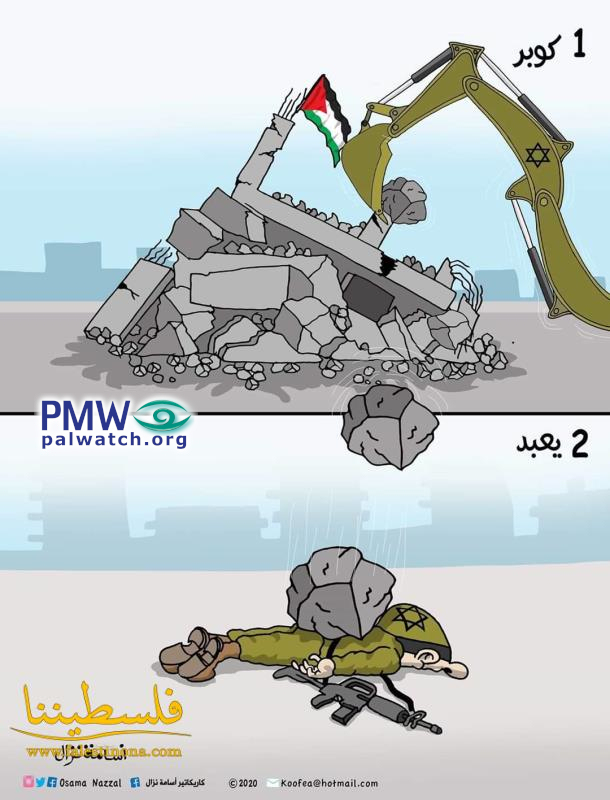 Headline: "The one who started it is guilty"
The cartoon consists of two frames marked "1" and "2." In the first frame is written the name of the PA town "Kubar," and a construction vehicle with a Star of David on it is seen demolishing a home with a Palestinian flag flying from it, in reference to the demolition of the house of terrorist Qassam Barghouti – who murdered 1 together with accomplices – in Kubar on May 11, 2020.
In the second frame is written the name of the PA town "Ya'abad," and a large round chunk of concrete dislodged by the construction vehicle in the first frame is seen falling and landing on an armed Israeli soldier with a Star of David on his helmet and a grotesquely large nose, crushing him to death. This refers to the murder of Israeli soldier Amit Ben Yigal by terrorist Nazmi Abu Bakr, who threw a rock on his head from a building in Ya'abad on May 12, 2020.
The cartoon visually justifies the murder of Ben Yigal as caused by Israel's demolition of terrorist murderer Barghouti's house.
Dolev attack – 17-year-old Rina Shnerb was murdered, and her father and brother wounded, when when Palestinian terrorists used a remote detonator to activate a bomb next to them as they visited the Danny Spring near the town of Dolev north of Ramallah on Aug. 23, 2019. Three terrorists who committed the attack were caught on Aug. 26, 2019.
Nazmi Abu Bakr – Palestinian terrorist who ‎murdered Israeli soldier Amit Ben Yigal by ‎throwing a rock down on his head from a ‎building in Ya'abad on May 12, 2020, while ‎Ben Yigal was participating in an operation to ‎arrest terror suspects. Abu Bakr was later ‎arrested and is on trial as of June 23, 2020.‎