PA honors terrorist serving 30 life sentences for murders
Itamar Marcus and Barbara Crook
|
PA honors terrorist serving 30 life sentences
for Passover murders
PA minister visits family of terrorist who planned
Passover Seder bombing that killed 30 Israelis

by Itamar Marcus and Barbara Crook
The Palestinian Authority Minister of Prisoners' Affairs, Issa Karake, visited the family of the terrorist Abbas Al-Sayid who planned the Passover suicide bombing in 2002. Thirty Israelis were killed in the terror attack, when a suicide bomber entered a hotel in Netanya and detonated his bomb during the Passover Seder dinner. Al-Sayid is serving 30 life sentences for planning this attack.
Palestinian Media Watch has reported that
honoring terrorists
is an integral part of PA policy.
The photo in the PA daily shows the PA minister handing the family an honorary plaque from the PA. Terrorist Al-Sayid's name and the PA logo are visible on the plaque. (In the photo the rest of the print is too small to read.)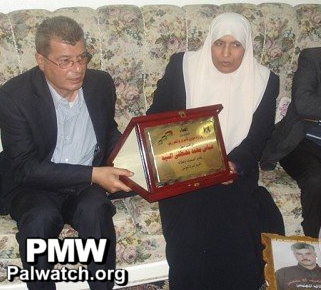 "Minister of Prisoners' Affairs, Issa Karake, and a delegation from the Ministry of Prisoners' Affairs visited the home of [the family of] prisoner Abbas Al-Sayid in Tulkarem. Al-Sayid has maintained an unlimited hunger strike for the past 21 days, and has been transferred from solitary confinement at the Ramon prison to solitary confinement at the Israeli hospital in Ramle. Karake warned of the severity of prisoner Al-Sayid's condition, following a deterioration of his health in the wake of the strike. He placed the responsibility for [Sayid's] life and health upon the Israeli government and the prison administration, and called for a response to the demands for an end to his solitary confinement, which has continued for over six months, in difficult conditions."
[Al-Hayat Al-Jadida, March 29, 2011]


[PA TV (Fatah), March 27, 2011]