Fatah posts Norwegian graffiti demonizing Israel and Trump
Image and text posted on the official Fatah Facebook page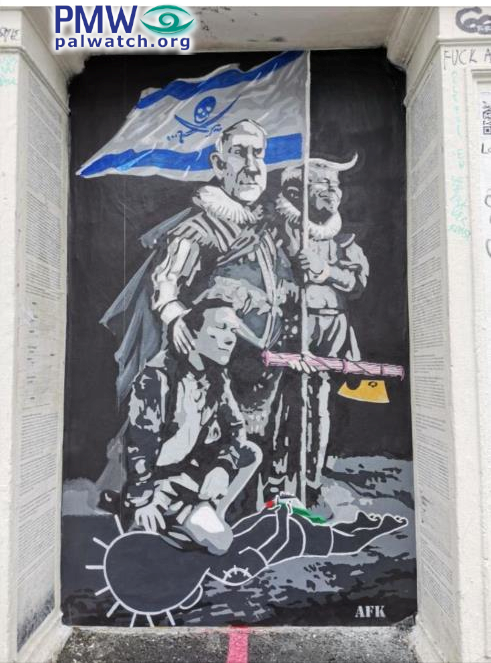 The image shows graffiti on a wall in Bergen, Norway, drawn by Norwegian street artist Axel F. Knudsen "AFK," which is signed with his initials in the bottom right corner. The graffiti shows US President Donald Trump holding an Israeli flag with a pirate skull and crossbones in place of the Star of David; Israeli Prime Minister Benjamin Netanyahu holding an ax; and Senior US Presidential Advisor Jared Kushner kneeling on the neck of the well-known Palestinian cartoon character Handala – who symbolizes the Palestinian refugee issue, and who is holding a Palestinian flag behind his back. Kushner's kneeling on Handala's neck is a reference to the death of US citizen George Floyd; see note below.
Posted text: "In his newest work, street artist Axel Knudsen – known as AFK – turned attention to the Israeli decision to annex territories in the West Bank. The new graffiti appeared on a known corner in Bergen, on the west coast of Norway, under the title '2020 Neo Nakba' (i.e., "the catastrophe," Palestinian term for the establishment of the State of Israel). The work presents Israeli Prime Minister Benjamin Netanyahu, American President Donald Trump, and his last son-in-law and Advisor Jared Kushner, with an Israeli flag that has the pirates' symbol instead of the Star of David at its center! Kushner appears with a superficial face without human facial features while pressing with his knee on the neck of a Palestinian child, namely Handala, as a hint to the murder of American George Floyd."
The graffiti refers to the death of African American US citizen George Floyd in Minneapolis, Minnesota, on May 25, 2020. Floyd was killed by a white police officer named Derek Chauvin who kneeled on his neck for almost 9 minutes when arresting him, ignoring his pleas that he could not breathe. Following Floyd's death, violent protests erupted across the US. Officer Chauvin has since been charged with second degree murder and manslaughter.