Fatah cartoon presents Israeli prison chains as snakes
Cartoon and text posted on the official Fatah Facebook page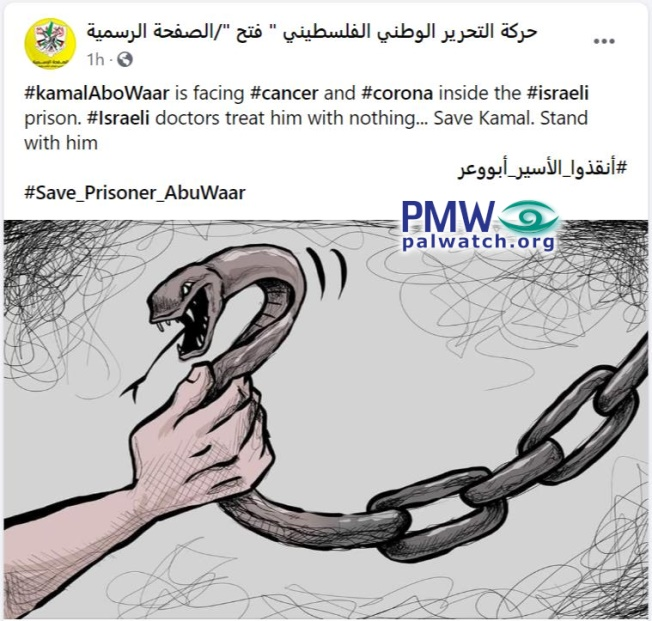 The cartoon shows an arm holding back a chain whose end has turned into a snake that is hissing aggressively.
Posted text: "(English in original, all errors in source –Ed.) #kamalAboWaar (i.e., terrorist Kamal Abu Wa'er, involved in murder of at least 4) is facing #cancer and #corona inside the #israeli prison. #Israeli doctors treat him with nothing... Save Kamal. Stand with him
(The following is in Arabic and English –Ed.)
#Save_Prisoner_AbuWaar"
Kamal Abu Wa'er – Palestinian terrorist and member of the PA Presidential Security Force 17 who participated in a number of lethal terror attacks including: the murder of Israeli border policeman Madhat Yousef in a shooting attack at Joseph's Tomb in Nablus on Oct. 1, 2000; the murder of Rabbi Benjamin Herling in a shooting attack at Mount Eival on Oct. 19, 2000; the shooting and murder of Arnaldo Agranionic, a guard at the town of Itamar, on May 8, 2001; and the murder of 16-year-old Aliza Malka in a drive-by shooting near the entrance of Kibbutz Meirav on Aug. 9, 2001. Abu Wa'er was serving 6 life sentences and died in prison in November 2020.
Note: The PA claimed that this terrorist had suffered Israel's alleged deliberate medical neglect in prison.
However, later, the PLO Commission of Prisoners' Affairs announced that "cancer patient prisoner Kamal Abu Wa'er has recovered from the Coronavirus after having become sick with it approximately two weeks ago."