Palestinian Football Association opposes activity with Israel, seeks legal proceedings against Palestinian girl players who played with Israelis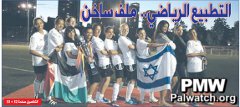 Text: "Normalization in sports... a hot topic"

Headline:
"Normalization in sports - a burning issue" [front page of sports section]
Sub-headline:
"The street and the [sports] association oppose normalization [with Israel], emphasizing: There are rules to raising the flag of Palestine"
"The tournament in Canadian displaying characteristics of normalization [with Israel] has aroused loud responses on the Palestinian street, with the publication of the details of the football match in forum discussions on the Internet and photographs showing participation by Palestinian girl players in a match alongside Israeli girl players. This has caused agitation and anger on the Palestinian street when it comes to such games… Abd Al-Majid Hujjah, Secretary-General of the Palestinian Football Association, announced that the Association intends to appoint an investigative committee to look into the circumstances of participation by groups of girl players in a normalization encounter with Israelis in Canada. He emphasized that the investigative committee will submit its recommendations prior to legal steps being taken against the players. Hujjah said that the position of the Palestinian Football Association on the issue of normalization [with Israel] in sports has been well-known for a long time, having been publicized, officially, on more than one occasion. This position has been disseminated among everyone involved. He denied the existence of any connection between the Palestinian Football Association and any activity related to the Israeli side."