Islamic Jihad official expects terrorist prisoners will be exchanged for Israeli hostages held in Gaza like Shalit
Shortly before the recent 10-year anniversary of the exchange of 1,027 terrorist prisoners in return for the release of Israeli soldier Gilad Shalit, who was held hostage by Hamas for 5 years (2006-2011), a representative of the terror organization Islamic Jihad stated that they expect similar prisoner swaps to free the remaining terrorist "heroes" from Israeli prisons.
Referring to Israeli hostages Avraham Mengistu and Hisham Al-Sayed and the bodies of soldiers Oron Shaul and Hadar Goldin that are currently being held by Hamas, Islamic Jihad Information Office Director Daoud Shihab compared them to Shalit:
Islamic Jihad Information Office Director Daoud Shihab: "A great achievement was recorded by the Palestinian resistance in the Gaza Strip. It's still holding, as it held [former Israeli captive soldier Gilad] Shalit. It's holding a number of Zionist prisoners and soldiers' [bodies] today. This is good news for all our people… and all the heroes inside the occupation prisons, for all our people, because freedom is coming and the freedom celebration is coming."

[Al-Mayadeen TV (Lebanon), Sept. 10, 2021]
When Israel released the first group of terrorists in exchange for Shalit, Palestinian Media Watch documented that Hamas called to kidnap 6 more Israeli soldiers to free the remaining 6,000 prisoners.
Hamas was not alone in its calls to kidnap more Israelis. Fatah leader Jibril Rajoub, who could potentially replace PA Chairman Mahmoud Abbas, has made similar calls. Representing Abbas at an event to mark the release of the terrorist prisoners Rajoub said: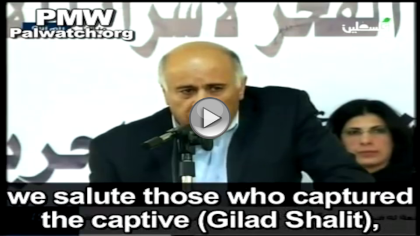 "I say in the name of the Fatah movement -- We salute those who dug the tunnel [to capture the Israeli soldier]; we salute those who captured the captive (Gilad Shalit), and salute those who guarded the captive until this deal was completed."

[Official PA TV, Oct. 30, 2011]
Later Rajoub added:
"If Hamas wants to kidnap soldiers... we encourage them. When they kidnapped Shalit we congratulated them."

[Official PA TV, Jan. 2, 2014]
"Kidnapping soldiers has become the only solution Israel understands for freeing our prisoners."

[Wattan, independent Palestinian news agency,, June 19, 2014]
Israelis Avraham Mengistu and Hisham Al-Sayed separately crossed into the Gaza Strip in 2014 and 2015 respectively, and Hamas indirectly has acknowledged holding them. Both men suffer from mental illnesses. Regardless, Hamas and Islamic Jihad view them as valuable bargaining chips in their efforts to pressure Israel to free more terrorists. Likewise, Hamas is holding the bodies of Israeli soldiers Oron Shaul and Hadar Goldin, who were both killed in the Gaza Strip during Israel's Operation Protective Edge in 2014.
In 2008, PMW was asked to prepare a report for the Shamgar Committee - a committee charged with establishing principles for the negotiations of the release of hostages. PMW's report Ramifications of Releasing Palestinian Prisoners on Palestinian Leadership and Society (Hebrew) documented that the PA leadership and society viewed Israel's release of Lebanese terrorist murderer Samir Kuntar, four other Hezbollah terrorists, and the bodies of 199 Palestinian and Lebanese terrorists in exchange for the bodies of kidnapped soldiers Ehud Goldwasser and Eldad Regev as a sign of weakness, and proof that "Israel only understands the language of power."
Gilad Shalit was an Israeli soldier who was kidnapped and held hostage by Hamas for more than 5 years. During that time, he was denied visits from the International Committee of the Red Cross and was not allowed communication with his family, in violation of his rights under the Geneva Convention. Numerous human rights organizations criticized Hamas for confining Shalit under conditions that were contrary to international humanitarian law. In October 2011, the Israeli government agreed to release 1,027 Palestinian prisoners from Israeli prison in exchange for Shalit.
Gaza War 2014 / Operation Protective Edge – In June 2014, Hamas escalated its hostilities and attacks against Israel - including the firing of numerous rockets at Israel. Israel responded with Operation Protective Edge, which aimed at destroying Hamas' ability to launch rockets and its terror infrastructure in general, which included its building of cross-border tunnels for the purpose of terror attacks and kidnappings. The war began on July 7, 2014, when the Israeli government ordered the Israeli army to launch an aerial operation against Hamas and other terrorist organizations in the Gaza Strip, and continued until Aug. 26, 2014, when an open-ended ceasefire was declared. During the war, 32 Hamas cross-border tunnels built for the purpose of terror attacks were destroyed, and two thirds of Hamas' rocket arsenal was used up or destroyed. Despite claims by Hamas and others of Israel using disproportionate force and of an extreme amount of civilian casualties, Chairman of the U.S. Joint Chiefs of Staff Gen. Martin Dempsey, stated on Nov. 6, 2014, that Israel had gone to "extraordinary lengths to limit collateral damage and prevent civilian casualties in the Gaza conflict."