Fatah honors and eulogizes "the red prince", commander of the Black September terror organization
Image and text posted on the Facebook page of the Fatah Commission of Information and Culture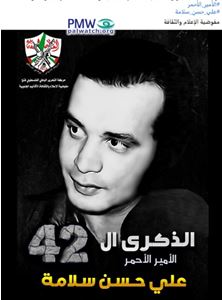 Posted text: "Tomorrow, Friday, Jan. 22, [2021,] is the 42nd anniversary of the death as a Martyr of the Red Prince, Ali Hassan Salameh (i.e., former commander of operations of the Black September terror organization)… who kept the Israeli occupation up at night with a series of operations (i.e., terror attacks), until the Israeli Mossad (Israeli Secret Intelligence Service) assassinated him in Beirut, the capital of Lebanon, on Jan. 22, 1979. 'Sad Monday' in the history of the Palestinian revolution – this is how the day of his death as a Martyr was called. This is a day full of grief and lethal bouts of pain in the lives of everyone who loved Martyr commander Abu Hassan Salameh.
#The_Red_Prince
#Ali_Hassan_Salameh
The [Fatah] Commission of Information and Culture"
The image shows terrorist Ali Hassan Salameh; in the upper left corner is the Fatah logo that includes a grenade, crossed rifles, and the PA map of "Palestine" that presents all of Israel together with the PA areas as "Palestine."
Text on image: "The 42nd anniversary
The Red Prince
Ali Hassan Salameh"
Ali Hassan Salameh - Palestinian terrorist and commander of operations in Europe of the Black September terror organization - a secret branch of Fatah - in the 1970s. He planned many terror attacks, including the attack on the Israeli team at the Munich Olympics on Sept. 5, 1972, in which 11 Israeli athletes were murdered. Salameh was killed by a car bomb in Beirut on Jan. 22, 1979. Israel is thought to be responsible for his death, but has not officially taken responsibility for it.