Campaign prevents Arab athletes' progress in Israeli sport
Itamar Marcus and Nan Jacques Zilberdik
|
"When you play with a team of the occupation you become like it"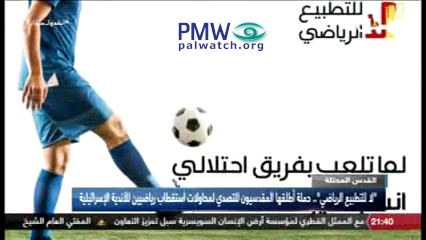 Sports not only promotes health and wellbeing but also can further peace building and constitute a bridge between people. However, in the PA, anti-Israel political goals are again being prioritized ahead of the welfare of individual Arab athletes and Arab children as well, as a new campaign prohibits building peaceful relations.
Many Arabs have been successful in Israeli national sports. For example, many play football on Israeli national league teams and a number play on the national team. The team captain, Bibras Nathko, is from a Circassian-Israeli Muslim family. An Israeli Arab Paralympic swimmer, Iyad Shalabi, recently won a gold medal for Israel in Tokyo.
As part of a news story about two Arab athletes who refused offers to represent and play for Israeli teams, official PA TV showed posters from the campaign that is shaming successful Arab athletes who have a chance to advance and have sports careers on Israeli teams, under the slogan: "When you play with a team of the occupation you become like it":
Official PA TV newsreader: "'No to normalization in sports.' The Jerusalem residents have begun an information campaign against the attempts to attract athletes to the Israeli clubs."

[Official PA TV News, Oct. 10, 2021]
PA TV showed two posters from the campaign, one features a football player: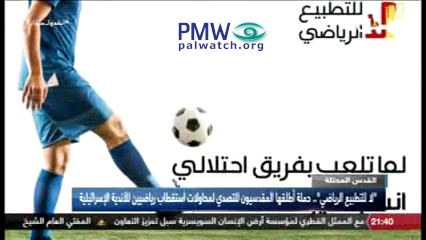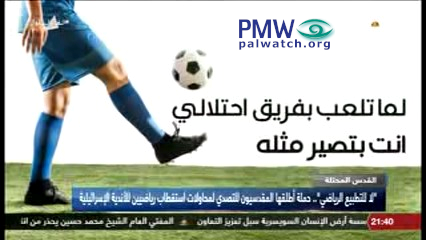 Text in upper right: "No to normalization in sports"

Text on right: "When you play with a team of the occupation you become like it"
The other poster shows an Arab boxer from East Jerusalem who refused to join an Israeli club: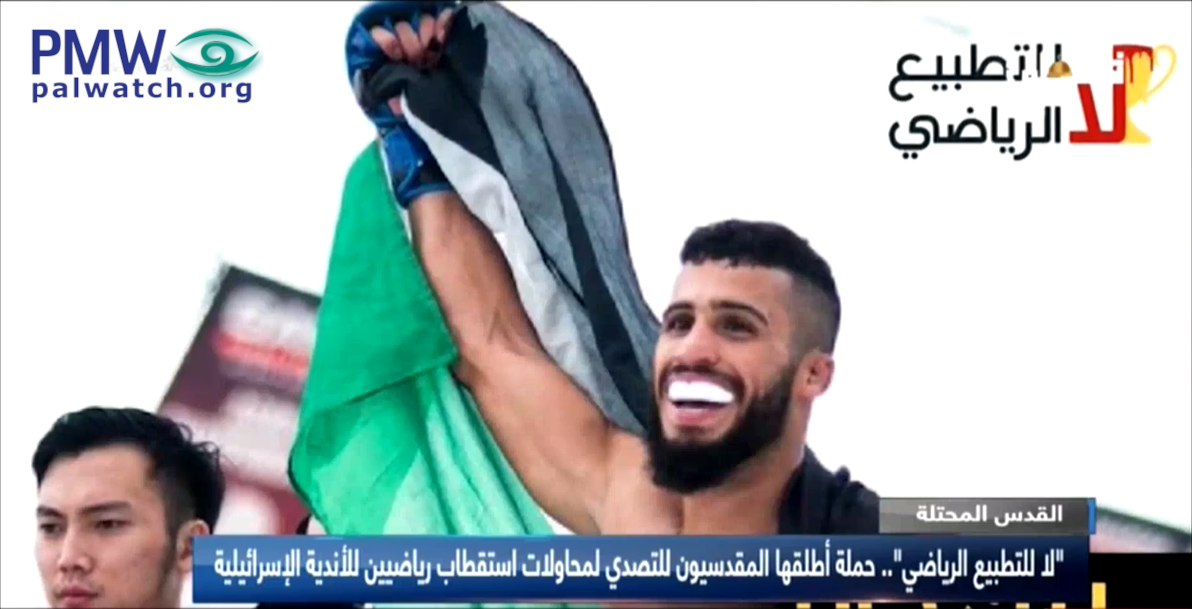 Text in upper right: "No to normalization in sports"
PA TV also promoted a statement by the organizers of the anti-normalization campaign. It addresses "parents and children" in Jerusalem, and shames "male and female athletes" who have joined Israeli clubs and participated in competitions "under the flag of the occupation state." By doing so, these athletes are "legitimizing and recognizing" the existence of Israel "on the land of Palestine," says the campaign, while calling on Arabs to "wake up" these athletes and "bring them back to the straight path":
Official PA TV newsreader: "The organizers of this campaign published a statement against what is happening in Jerusalem…"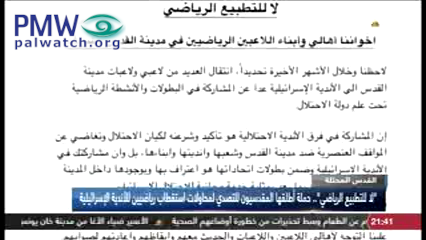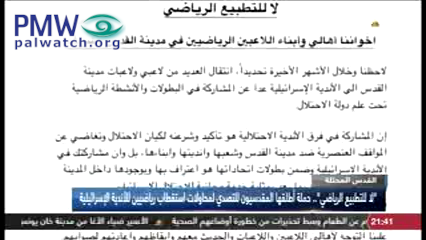 Text: "No to normalization in sports

Our brothers, parents and children of the sports athletes in noble Jerusalem

We have noticed particularly in recent months that a number of male and female athletes from Jerusalem have moved to the Israeli clubs, aside from participating in tournaments and sports activities under the flag of the occupation state.

Participating in teams of the occupation clubs is a confirmation and legitimization of the occupation entity and ignores the racist positions against Jerusalem, its people, its clubs, and its sons. Moreover your participation in the Israeli clubs and in the framework of [Israel's] association tournaments is recognition of it and of its existence inside the city and on the land of Palestine, which is considered a free service for the Israeli occupation.

It is now the duty of us all to spend time on this phenomenon, especially after young women from Jerusalem also joined these clubs and the framework of the various sports tournaments. Therefore, it is our duty to contact the parents of the male and female athletes and to speak with them, wake them up, and bring them back to the straight path."

[Official PA TV News, Oct. 10, 2021]
Sadly this initiative doesn't stand alone, but is an expression of PA policy that forbids normalization with Israel in general and in sports in particular. One of the most adamant speakers against normalization in sports is Jibril Rajoub who heads the PLO Supreme Council for Youth and Sports. He also holds the position as Fatah Central Committee Secretary. Countless times Palestinian Media Watch has exposed that Rajoub has publicly denounced joint sports activities with Israel, threatened to exclude Palestinian athletes if they were to participate in any sports activities with Israeli athletes, and called for a boycott of Israel in sports in general.
One of Rajoub's most infamous statements against joint sports activities between Palestinians and Israelis was when he condemned a very successful peace building football match between 11-year-old boys, calling it a "crime against humanity":
Rajoub: "Any activity of normalization in sports with the Zionist enemy is a crime against humanity."

[Official PA daily Al-Hayat Al-Jadida, Sept. 8, 2014]
PMW detailed Rajoub's statements against normalization in the report The Rajoub File, which also details his support for Palestinian terror and admiration for Palestinian murderers. PMW's exposure of Rajoub, who is also the chairman of the Palestinian Football Association, and PMW complaints to FIFA that he was in breach of FIFA's Disciplinary Code led to FIFA fining him and suspending him for a year. PMW has recently submitted its second complaint against Rajoub to the International Olympic Committee, for violating Olympic Committee bylaws. PMW is still awaiting the Olympic Committee's ruling.