Palestinians promise "armed struggle" if fugitive terrorists return
Images and text posted on the Facebook page of the Fatah Commission of Information and Culture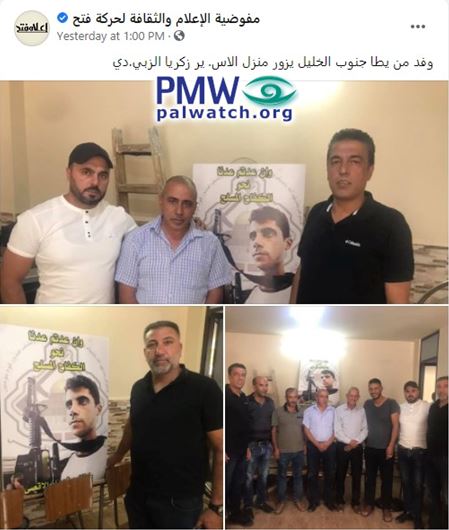 Posted text: "A delegation from Yatta, south of Hebron, visited the home of prisoner Zakariya Zubeidi (i.e., terrorist, responsible for numerous attacks)"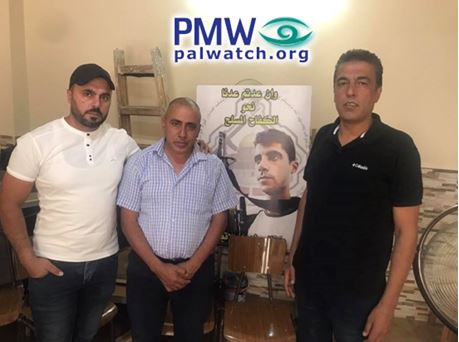 The image shows men standing next to a poster showing terrorist Zakariya Zubeidi holding an assault rifle.
Text on poster addressing the 6 escaped prisoners: "If you return we will return to armed struggle"
Zakariya Zubeidi - Palestinian terrorist and head of the Al-Aqsa Martyrs' Brigades (Fatah's military wing) in the Jenin area during the PA terror campaign (the second Intifada, 2000-2005), when he oversaw numerous lethal attacks. Zubeidi was taken off Israel's wanted list in 2007 on condition that he refrain from terror as part of a deal with the PA; he was subsequently given a position in the PA Ministry of Prisoners' Affairs and made a Fatah Revolutionary Council member. Zubeidi was arrested by Israel on Feb. 27, 2019, for breaching the deal by committing several shooting attacks with an accomplice - East Jerusalem lawyer Tareq Barghut who worked in the PA Ministry of Prisoners' Affairs - near Beit El north of Ramallah on Nov. 7, 2018 and Jan. 5, 2019, and north of Jerusalem in late 2018; Zubeidi used a car issued to him by the PA in the attacks. Israel has put Zubeidi on trial for all of his past terror activity. Zubeidi escaped from Israel's Gilboa Prison on Sept. 6, 2021, together with 5 Islamic Jihad terrorist prisoners who shared a cell with him, by digging a tunnel out through the floor with a spoon.