New PA embassy in Tunisia displays huge map of "Palestine" erasing Israel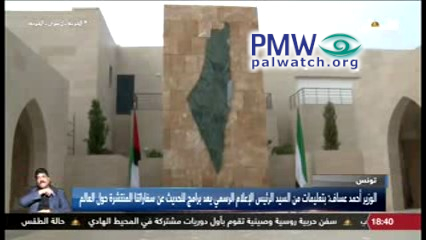 According to "direct orders and instructions" from PA Chairman Mahmoud Abbas, the PA has established over 100 Palestinian embassies around the world. [Official PA TV News, Oct. 23, 2021]
One such embassy is located in Tunisia. When staff and visitors arrive they are met with a huge monument with the PA's map of "Palestine" – the version that erases all of Israel: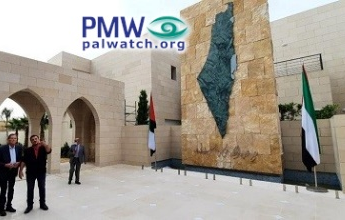 [Official PA daily Al-Hayat Al-Jadida, Oct. 23, 2021]
This is no surprise since the PA displays and promotes this map in all contexts possible as exposed again and again by Palestinian Media Watch. The message of the map is, of course, that Israel has no right to exist and that the goal of the PA is sovereignty over the entire area.
Ahmad Assaf, General Supervisor of the Official PA Media and General Supervisor of Fatah-run Awdah TV, alluded to this vision when he mentioned that "Palestine's symbols" are "in every corner" of the embassy, so that visitors can "connect them immediately with what is happening in occupied Palestine" :
"The design of this embassy completely matches the nature of work of an embassy of Palestine. In this embassy we found many Palestinian symbols, in other words, one of Palestine's symbols is in every corner. Of course, in addition to the wonderful design of this embassy, they succeeded in merging the wonderful geometrical structure and geometrical design and added to them the Palestinian symbols, in a way that every guest or visitor entering this embassy can immediately see these symbols and connect them immediately with what is happening in occupied Palestine."

[Official PA TV News, Oct. 23, 2021]