Abbas builds new Palestinian embassy in Tunisia, crowned with a "large display of the map of Palestine" completely erasing Israel
Official PA TV News, on General Supervisor of the Official PA Media and General Supervisor of Fatah-run Awdah TV Ahmad Assaf visiting the PA embassy in Tunisia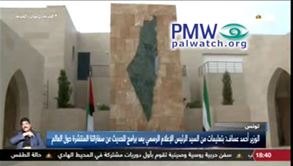 Visual:
The screenshot shows a large monument at the PA embassy in Tunisia featuring the PA map of "Palestine" that presents all of Israel together with the PA areas as "Palestine."
Official PA TV reporter: "In the entrance plaza of the [PA embassy] headquarters [in Tunisia] that is surrounded by arches from the Andalusian culture, visitors to the embassy find a large display of the map of historical Palestine, at the bottom of which is chiseled [Palestinian poet Mahmoud] Darwish's famous line: 'There is something worth living for on this land.'"
…
General Supervisor of the Official PA Media Ahmad Assaf: "The truth is that this embassy was born from the Palestinian-Tunisian collaboration, and according to direct orders and instructions from His Honor [PA] President Mahmoud Abbas that we have headquarters for the State of Palestine's embassies in the various world states and that they be owned by the Palestinian people…
The design of this embassy completely matches the nature of work of an embassy of Palestine. In this embassy we found many Palestinian symbols, in other words, one of Palestine's symbols is in every corner… in a way that every guest or visitor entering this embassy can immediately see these symbols and connect them immediately with what is happening in occupied Palestine.
Also, it is true that this effort connected to building this embassy is, as I mentioned, part of a comprehensive effort that President Mahmoud Abbas has carried out to ensure for us ownership over embassies worldwide. Today we- that is to say, Allah be praised, the State of Palestine has more than 100 embassies and ambassador homes, some of which contain residences for employees – this exists around the entire world and in various states in the world, and this [happened] during the years that have passed… These headquarters, embassies, ambassador residences, employee residences, and all these buildings that have come under the ownership of the State of Palestine are a national treasure for the Palestinian people, and certainly this treasure is the property of the Palestinian people… It is the Palestinian people's right to be proud of this great achievement, which was realized as a result of great effort and monitoring by His Honor the President and was carried out by the Palestine National Fund (see note below -Ed.)."
Mahmoud Darwish is considered the Palestinian national poet. He published over 30 volumes of poetry and 8 books of prose and has won numerous awards. He joined the Israeli Communist Party in 1961 and the terrorist organization PLO in 1973, becoming a member of the PLO Executive Committee in 1987. He left the PLO in 1993 because it signed the Oslo Accords with Israel. Many in Israel see his poetry as inciting hate and violence. One poem he wrote in 1988 at the height of the Palestinian wave of violence and terror against Israel in which approximately 200 Israelis were murdered (the first Intifada, 1987-1993) calls to Israelis: "Take your portion of our blood - and be gone… Live wherever you like, but do not live among us… Die wherever you like, but do not die among us… Leave our country, our land, our sea, our wheat, our salt, our wounds, everything, and leave the memories of memory." In 1964, he wrote a poem entitled "ID Card" in which he said: "I do not hate people, And I do not steal from anyone, But if I starve I will eat my oppressors' flesh; Beware, beware of my starving, And my rage." He also wrote "Silence for the Sake of Gaza" in 1973, which many see as glorifying terror: "She wraps explosives around her waist and blows herself up. It is not a death, and not a suicide. It is Gaza's way of declaring she is worthy of life." His defenders have claimed that Israel misinterprets his poetry and that he sought reconciliation with Israel. One wrote in 2017: "Darwish arranged meetings between Palestinian and Israeli intellectuals, and published essays on their discussions. He was optimistic that, through mutual understanding, the two sides could eventually reconcile." [https://www.bcalnoor.org/]
The Palestine National Fund (PNF) is a part of the PLO and manages the financial aid received by the organization, using it to provide funding. Among other things, Palestinian Media Watch has proved it funds the salaries of imprisoned Palestinian terrorists and the allowances for the families of Palestinians killed while committing acts of terror.