Israel Today on PMW Bulletin: Palestinian Education Ministry wipes Israel off its maps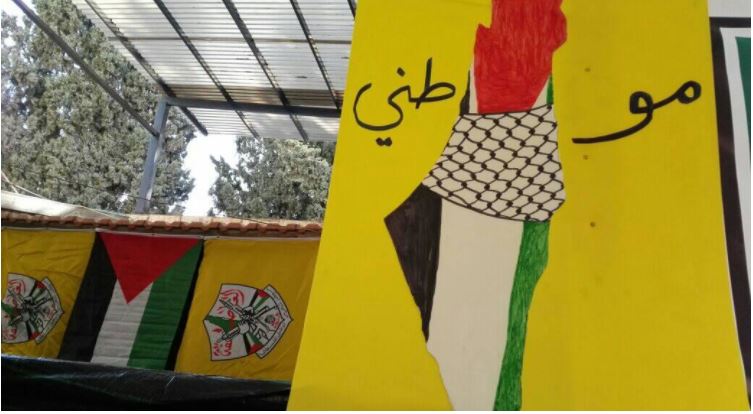 A poster reading "My homeland" featured in the Kafr Qaddum High School for Girls in Qalqilya, Nov. 17, 2021
PA Education Ministry poster:
"Palestine: The entire land is ours, from the Sea to the River."
The Palestinian Authority Education Ministry posted images on its Facebook page earlier this month showing several maps of "Palestine" that erase the State of Israel, Palestinian Media Watch reported over the weekend.
"Today, [Nov. 16, 2021,] the [PA Education] Ministry marked Palestinian Keffiyeh Day in all the homeland's schools, which takes place simultaneously with the State of Palestine's declaration of independence," a Facebook post read.
Images from the event posted by the ministry's social media accounts show that several PA maps of "Palestine" that erase Israel were prominently displayed at the event.
During a ceremony at the Palestinian schoolchildren at the Kafr Qaddum High School for Girls in Qalqilya, for example, the students were given a presentation by the Ramallah-based Education Ministry, which included posters reading "Palestine: The entire land is ours, from the [Mediterranean] Sea to the [Jordan River]."
Other images posted on social media show a man speaking at th eQalqilya event. Behind him are three versions of the PA map of "Palestine" that presents all of Israel together with the PA areas as "Palestine." The poster in the middle announces that the event is held "under the auspices of Qalqilya District Governor Rafe' Rawajbeh and [PA] Minister of Education Marwan Awratani.
"Denial of Israel's right to exist and the use of the PA map of 'Palestine' erasing Israel's existence in an educational context in the PA is official PA policy," the watchdog said. "Palestinian Media Watch has documented hundreds if not thousands of examples of the PA map displayed in educational settings, be it at events, in schoolbooks, in magazines distributed to youth at PA schools, at youth movement activities, or elsewhere."
"Palestinian Media Watch is an Israel-based nongovernmental organization and media watchdog group that documents cases of incitement in Palestinian media and by official PA institutions."