Haifa and Jaffa are Palestinian cities according to young girls at the event in memory of Arafat's death and the PLO Declaration of Independence
Images and text posted on the Facebook page of the Fatah Movement – Hebron Branch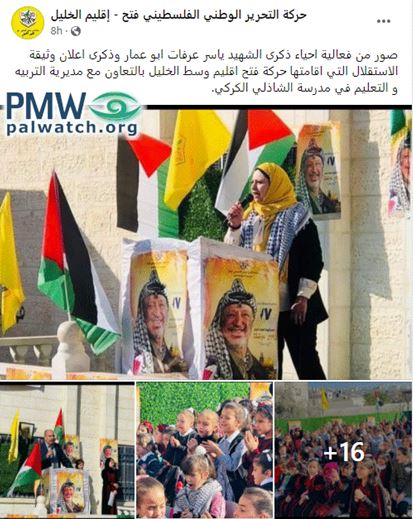 Posted text: "Pictures from the event to mark the anniversary of the death as a Martyr of [former PLO Chairman and PA President] Yasser Arafat and the day of the [Palestinian] declaration of independence, which was held by the Fatah Movement's central Hebron branch in partnership with the [Hebron] education directorate (i.e., under the PA Ministry of Education) at the [Sheikh Ali] Al-Shadhili Al-Karaki School [in Hebron]."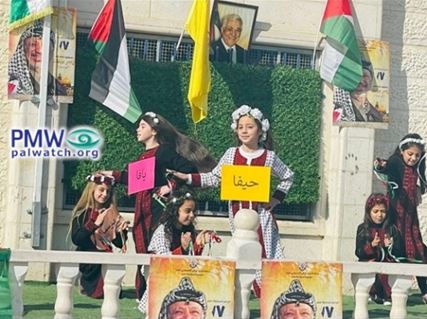 The image shows young girls giving a performance at the event, two of whom are wearing signs bearing the names of the Israeli cities "Haifa" and "Jaffa." In the background are Palestinian flags and a yellow Fatah flag, a picture of PA Chairman Mahmoud Abbas, and posters showing former PLO and PA Chairman Yasser Arafat.
The image shows people standing in a room during the event, with Palestinian flags decorating the room. In the background is a poster featuring the PA map of "Palestine" that presents all of Israel together with the PA areas as "Palestine" in the colors of the Palestinian flag.
Yasser Arafat – Founder of Fatah and former chairman of the PLO and PA. During the 1960s, 70s and 80s Arafat was behind numerous terror attacks against Israelis. Although he received the Nobel Peace Prize in 1994 together with then Israeli Prime Minister Yitzhak Rabin and then Israeli Minister of Foreign Affairs Shimon Peres "for their efforts to create peace in the Middle East" after signing the Oslo Accords peace agreement, Arafat launched a 5-year terror campaign - the second Intifada (2000-2005) – in which more than 1,000 Israelis were murdered. Arafat died of an illness in 2004.
Palestinian declaration of independence - On Nov. 15, 1988, before the Palestine National Council (PNC), the Palestinian parliament in exile in Algeria, Chairman of the Palestine Liberation Organization (PLO) Yasser Arafat declared the establishment of an independent Palestinian state with Jerusalem as its capital. Although the borders were not specified in the declaration, it recognized the UN partition plan of 1947, which called for the creation of a Jewish state and an Arab state in the former British Mandate for Palestine.