PA municipality workers' union election includes a faction which is named after the fugitive terrorists who escaped from Israeli prison
Image and text posted on the Facebook page of the Fatah Movement – Hebron Branch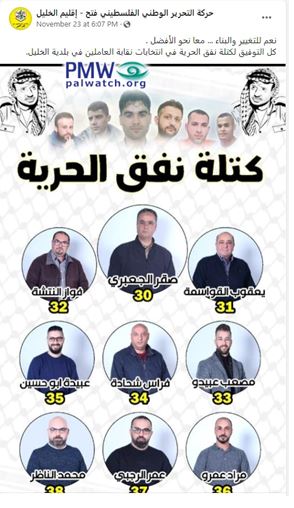 Posted text: "Yes to change and building, together towards [making things] better
Full success to the freedom tunnel faction (i.e., a reference to escape of 6 terrorists from Gilboa Prison; see note below) in the Hebron Municipality workers' union elections"
The image shows a poster of "the freedom tunnel faction," with its name appearing at the top under the pictures of the 6 terrorists who temporarily escaped from Gilboa Prison, and drawings of former PLO and PA Chairman Yasser Arafat on the left and right. Below are the faction's candidates in the elections.
2021 Gilboa Prison escape – 6 Palestinian terrorist prisoners escaped from Israel's Gilboa Prison on Sept. 6, 2021, by widening the hole of the shower drainpipe in the floor of their cell. One terrorist is from Fatah - Zakariya Zubeidi, and the other five are from Islamic Jihad - Ayham Kamamji, Muhammad Ardah, Mahmoud Ardah, Yaqub Qaderi, and Munadil Nafiyat. Four of the terrorists were recaptured after five days: Zubeidi, Ardah, Ardah, and Qaderi. Kamamji and Nafiyat were arrested in Jenin on Sept. 18, 2021 along with two accomplices. Zubeidi was head of the Al-Aqsa Martyrs' Brigades (Fatah's military wing) in the Jenin area during the PA terror campaign (the second Intifada, 2000-2005), when he oversaw numerous lethal attacks, and he also carried out shooting attacks in 2018-2019. Kamamji participated in the murder of 18-year-old Eliyahu Asheri on June 25, 2006, and planned to blow up a bus using an exploding car. Muhammad Ardah participated in initiating and executing a suicide bombing on bus no. 823 on Nov. 29, 2001, in which 3 people were murdered and many others were wounded. Mahmoud Ardah was involved in numerous attacks; the website of Islamic Jihad's military wing defined him as the "commander" of the prison escape. Qaderi committed a shooting attack on Sept. 18, 2002 with an accomplice in which Israeli Yosef Ajami was murdered and a foreign worker was wounded. Nafiyat was being held in administrative detention.
Yasser Arafat – Founder of Fatah and former chairman of the PLO and PA. During the 1960s, 70s and 80s Arafat was behind numerous terror attacks against Israelis. Although he received the Nobel Peace Prize in 1994 together with then Israeli Prime Minister Yitzhak Rabin and then Israeli Minister of Foreign Affairs Shimon Peres "for their efforts to create peace in the Middle East" after signing the Oslo Accords peace agreement, Arafat launched a 5-year terror campaign - the second Intifada (2000-2005) – in which more than 1,000 Israelis were murdered. Arafat died of an illness in 2004.