Hamas celebrates "heroic stabbing operation" by "martyr" Omar Abu Asab in huge Temple Mount poster declaring that Omar is "alive with his Lord, receiving provision"
Images and text tweeted on the Twitter account of the independent Palestinian news agency Shehab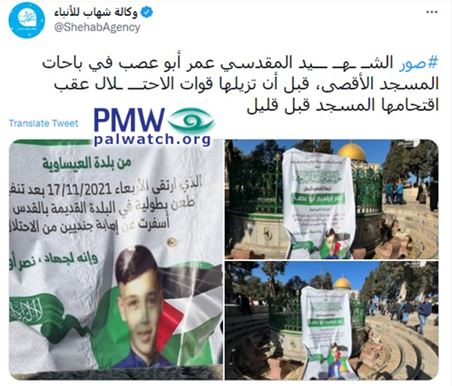 Posted text: "Pictures of Jerusalem Martyr Omar Abu Asab (i.e., terrorist, wounded 2 people) in the plazas of the Al-Aqsa Mosque before the occupation forces took them down after their invasion of the Al-Aqsa Mosque a short time ago."
The images show a poster featuring a picture of terrorist Omar Abu Asab being displayed on the Temple Mount.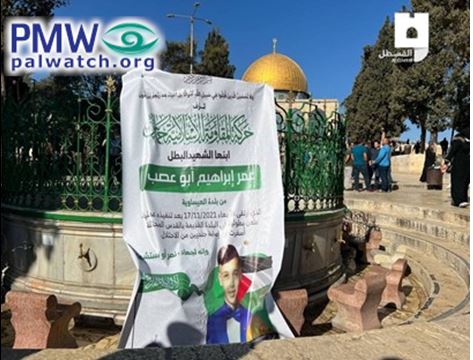 Text on poster: "'And never think of those who have been killed in the cause of Allah as dead. Rather, they are alive with their Lord, receiving provision' [Quran 3:169, Sahih International translation]
The Hamas Movement eulogizes its son, heroic Martyr Omar Ibrahim Abu Asab
From the village of Issawiya (i.e., a predominantly Arab neighborhood of Jerusalem)
Who ascended [to Heaven] on Nov. 17, 2021
After he carried out a heroic stabbing operation in the Old City of occupied Jerusalem, which caused the wounding of two of the occupation's soldiers
Jihad – victory or Martyrdom-death"
Omar Ibrahim Abu Asab – 16-year-old Palestinian terrorist who stabbed and wounded two Israeli border police officers near the Damascus Gate of the Old City of Jerusalem on Nov. 17, 2021, before the officers shot and killed him in self-defense.
The PA and its leaders misrepresent all of the Temple Mount as an integral part of the Al-Aqsa Mosque. Therefore, they vilify any presence of Jews on the mount as an "invasion." It should be noted that Jews who visit the Temple Mount only enter some sections of the open areas, and do not enter the Al-Aqsa Mosque or the Dome of the Rock. Israeli police ban Jewish prayer at the Temple Mount because of threats of violence by Palestinians.