Terrorist murderer of 5 will keep killing if he is released again, says his brother
"If [my brother] is released he will [attack] a second time, a third time, and a fourth time."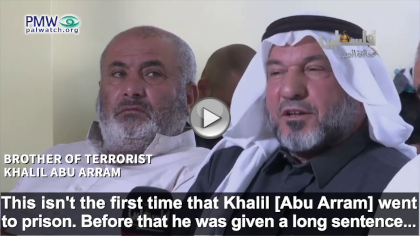 Speaking on official PA TV, the brother of a terrorist responsible for the murder of 5, expressed his conviction that his brother will kill again if released. He explained that his brother Khalil Abu Arram already once was given "a long sentence" but "came out in the previous prisoner exchange." After his release he carried out more terror – "attacked again" out of "national duty" - his brother stated, and continued that nothing is going stop the currently imprisoned murderer from killing "a second time, a third time, and a fourth time" if released:
Brother of terrorist Khalil Abu Arram: "This isn't the first time that Khalil [Abu Arram] went to prison. Before that he was given a long sentence... Allah be praised, he came out in the previous prisoner exchange [deal]. In accordance with his national duty, he attacked again – together with his comrades… As a sign of solidarity with his brothers he attacked again, and I believe that if he is released he will do [it] a second time, a third time, and a fourth time. As long as Palestine is being subjected to oppressive occupation he will continue all his efforts to remove the occupation from Palestine."

Official PA TV host: "Khalil Abu Arram, may Allah bless you, from the program Giants of Endurance."

[Official PA TV, Giants of Endurance, Nov. 11, 2021]
That terrorists released prematurely return to terror is yet another problematic aspect of exchanging terrorist prisoners for Israeli hostages. As reported by Palestinian Media Watch yesterday, early release of terrorists has caused Israeli prison sentences to lose their value as a deterrent. Palestinians believe that no sentence is for real because Israel will agree to premature releases in exchange for Israeli hostages.
Khalil Abu Arram – Palestinian terrorist responsible for a number of shooting attacks near Hebron in which 5 were murdered – one on July 26, 2002, in which Israeli soldier Shamai-Elazar Leibovitz, Rabbi Ya'akov Yosef Dikstein, his wife Chana Dikstein, and their 9-year-old son Shuvel Zion were murdered and two other children of the Diksteins were wounded; and one on Oct. 8, 2002, in which Oded Wolk was murdered and three others were wounded. Abu Arram is serving 5 life sentences. Abu Arram previously was arrested in 1988 during the first Intifada and sentenced to 17 years in prison, but was released after 5 years in the prisoner release Israel agreed to as part of the 1993 Oslo Accords peace agreement.