The PA's 'Equal Opportunities for Terrorist Murderers' policy
This morning, Israeli security forces arrested the terrorists suspected of murdering 25-year-old Yehuda Dimentman and injuring others in a shooting attack last Thursday.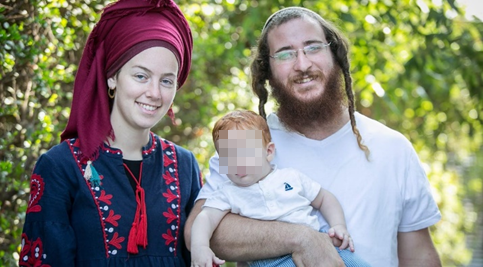 The arrest of the terrorist murderers automatically invokes the full weight of the Palestinian Authority's 2004 Law of Prisoners and Released Prisoners and implementing regulations.
According to the law (sec. 2), all terrorists "are a fighting sector, and an inseparable part of the Palestinian society."
Section 7 of the law, together with sections 7 and 12 of PA Government Decision Number 23 of 2010 Regarding the Regulation of Payment of the Monthly Salary to the Prisoner, guarantees the terrorists a monthly salary from the PA, that begins on the day of their arrest and increases with time spent in prison (see chart below). Section 6 of the law adds that the PA will also provide the terrorists with monthly spending money and a clothing allowance, twice a year.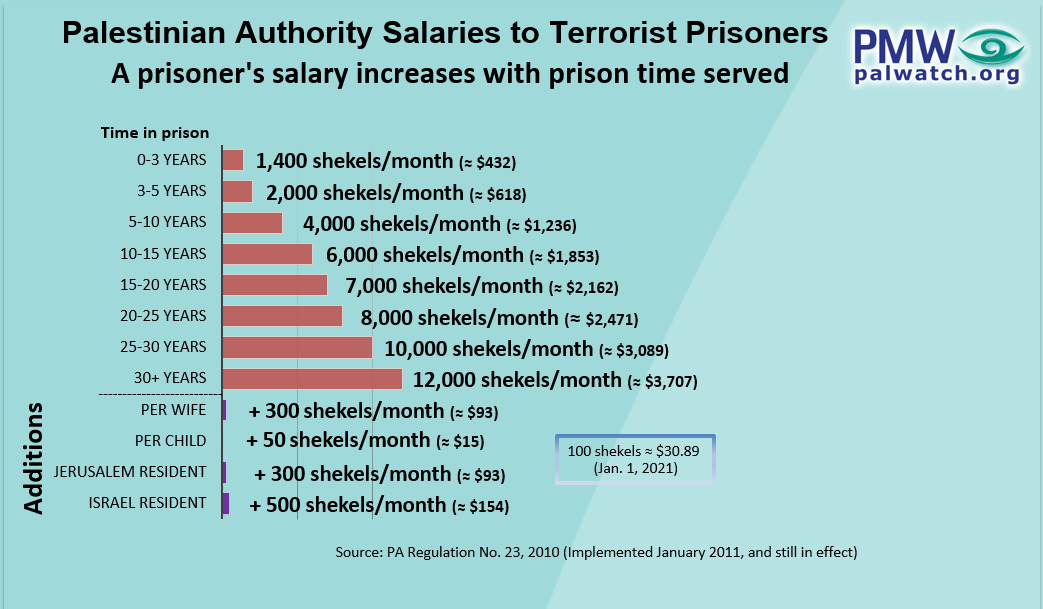 The terrorists arrested this morning are members of Palestinian Islamic Jihad (PIJ), an internationally designated terror organization. Irrelevant of their terror affiliation, as part of the PA's 'Equal Opportunities for Terrorist Murderers' policy, the PA pays every terrorist prisoner including those who are members of PIJ, Hamas, the Popular Front for the Liberation of Palestine and the Al-Aqsa Martyrs' Brigades. The PA similarly does not care if the victims of terror were Israelis, Jews, or simply foreigners. The only relevant factor for entitlement to the huge PA terror reward package is that the recipient was a Palestinian terrorist arrested for his involvement in terror.
Yesterday marked 11 years since the murder of Christian US tourist Kristine Luken. Each of the two terrorists convicted for the murder of Kristine has been paid over $139,000, as a reward for the murder.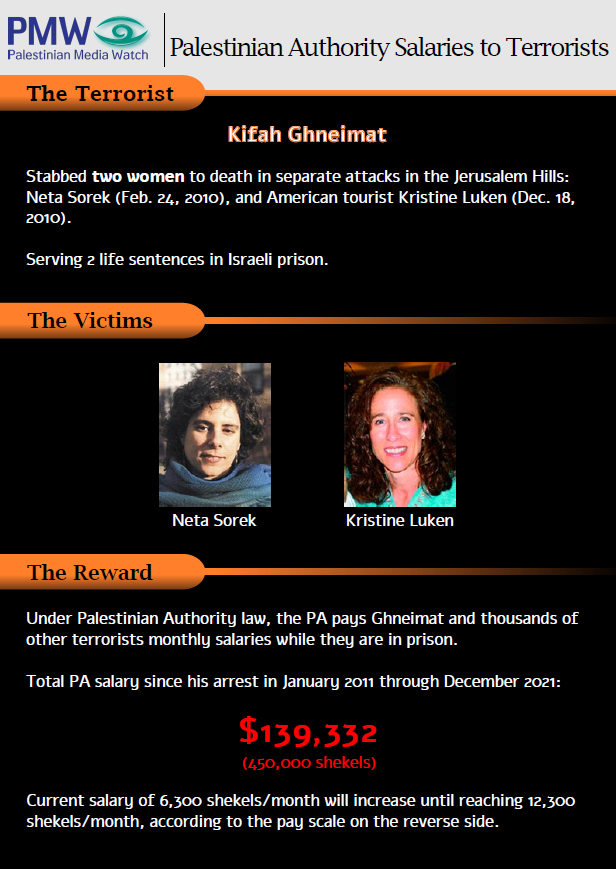 Kay Wilson, an Israeli tour guide, was with Kristine at the time of the attack. After being stabbed 13 times, Kay feigned being dead and then heroically dragged herself through the forest, barefoot and with her hands tied, to get help, which led to the arrest of the murderers and a 5-member Hamas terror cell. In December 2018, Kay joined the Director of Palestinian Media Watch, Itamar Marcus, on a trip to address Members of Parliament in the Netherlands.
Following the trip, with the information that PMW supplied, the Netherlands decided to cease all financial aid to the PA.
Alongside the financial rewards, paragraph 4 of the PA law, stipulates that the PA "will not sign and will not participate in the signing of a peace agreement for a solution of the Palestinian problem without the release of all the prisoners."