Get your friends to envy you - have a murderer of Israelis in the family
"I always brag about you to my friends," niece tells terrorist uncle involved in murder of 7

"I'm proud of you," nephew tells terrorist uncle involved in murder of 4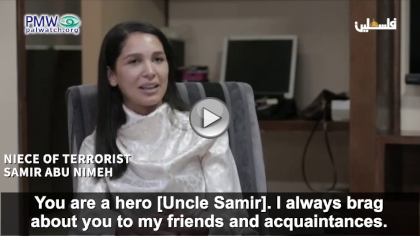 Family pride is usually felt when a relative has done something good, made an accomplishment, or had a positive impact – whether by talent, hard work, or both.
In the PA, family pride is when a relative has murdered one or several Israelis!
On PA TV, a woman told how she brags to her friends about her uncle who is in prison for the murder of 7 and a boy expressed his pride in his uncle who was involved in the murder of 4.
Imprisoned terrorist Samir Abu Nimeh was involved in a bus bombing in 1983 in which 6 were murdered, including two sisters aged 13 and 15, and 44 were wounded, and an attack with grenades at a ceremony at the Western Wall in 1986, in which one was murdered and 69 wounded. For his adult niece, these crimes are a source of immense pride, so much so that she "always brags about him to her friends and acquaintances." Addressing him directly on official PA TV, which Palestinian terrorists watch in Israeli prisons, Abu Nimeh's niece called her murderous uncle a "hero" and "national symbol":
Brother of terrorist Samir Abu Nimeh: "[Samir Abu Nimeh] was arrested over an operation at the Mughrabi Gate throwing grenades at a group of Givati [Brigade] soldiers being inducted at the Al-Buraq Plaza (i.e., the Western Wall). A soldier was killed (sic., a civilian) and more than 70 other soldiers were wounded (sic.). He was arrested for providing them with the weapons – grenades and rifles. During interrogation he admitted to carrying out an operation in 1983, the bombing of bus line 18 in Jerusalem (i.e., 6 murdered)."

Niece of terrorist Samir Abu Nimeh: "You are a hero [Uncle Samir]. I always brag about you to my friends and acquaintances. I always talk about you with great pride. You are a national symbol in the town [of Abu Dis]. Your name is known and there is no need to explain who you are, but I always take pride in mentioning you."

[Official PA TV, Jerusalem Prisoners, Dec. 13, 2021]
The nephew of another terrorist expressed similar pride in his imprisoned uncle Murad Abu Al-Rub, who is serving 4 life sentences for his involvement in the Kedumim bombing, in which a suicide bomber murdered 4 Israelis in 2006:
Sister of terrorist Murad Abu Al-Rub: "All of us here are proud of [Murad Abu Al-Rub] (i.e., terrorist, involved in murder of 4)… Murad will remain our support…"

Nephew of terrorist Murad Abu Al-Rub: "I love you Uncle [Murad], and I want to give you a message: Release is near, Allah willing, for you and all the prisoners, and I'm proud of you uncle."

PLO Commission of Prisoners' Affairs Director in Jenin Sayyaf Abu Saif: "We are in the home of one of the heroes of the Jenin district…This hero is called Murad Abu Al-Rub."

[Official PA TV, Giants of Endurance, Dec. 2, 2021]
Palestinian Media Watch has documented that the PA puts terrorist murderers on a pedestal and teaches Palestinians that they are role models to be emulated.
Samir Abu Nimeh – Palestinian terrorist involved in an attack on Oct. 15, 1986, in which grenades were thrown at Israeli army soldiers and their families immediately after an induction ceremony at the Western Wall, murdering Dov Porat, the father of one of the recruits, and wounding 69 others. The PLO claimed responsibility for the attack.
The Al-Buraq Wall - Islam's Prophet Muhammad is said to have ridden during his Night Journey from Mecca to "al aqsa mosque", i.e., "the farthest mosque" (Quran, Sura 17), and there tied his miraculous flying steed named Al-Buraq to a "stone" or a "rock." (Jami` at-Tirmidhi, Book 47, Hadith 3424). In the 1920's, Arab Mufti Haj Amin Al-Husseini decided to identify the Western Wall of the Temple in Jerusalem as that "rock" or "stone," and since then Muslims refer to the Western Wall as the "Al-Buraq Wall."
Murad Abu Al-Rub – Palestinian terrorist involved in the Kedumim bombing, in which suicide bomber Ahmed Masharqa murdered 4 Israelis – Rafi and Helena Halevi, Reut Feldman, and Shaked Lasker – near the entrance to Kedumim, west of Nablus, on March 30, 2006. Al-Rub is serving 4 life sentences.