Fatah posts photos of children posing with past Fatah terror leaders and murderers
Images posted on the Facebook page of "the Lion Cubs and Flowers Institution" – the Fatah Youth Institution for Boys and Girls – Nablus Branch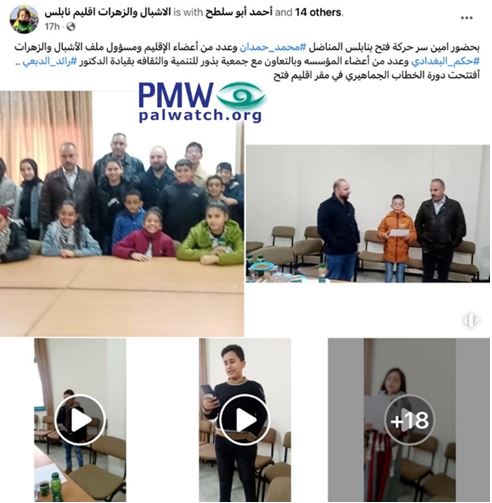 The image shows a group of girls wearing keffiyehs (Arab headdresses) posing in front of portraits of former Palestinian leaders, among them terrorists and murderers (from left to right): Fatah Central Committee member Othman Abu Gharbieh, Fatah and PLO terror leader Hani Al-Hassan, Fatah co-founder Sakher Habash, Arab commander Faisal Abd Al-Qader Al-Husseini, former PLO and PA Chairman Yasser Arafat, terrorist Khalil Al-Wazir "Abu Jihad," Fatah terror leader Saad Sayel, Fatah leader Majed Abu Sharar, and Fatah terror leader Kamal Adwan.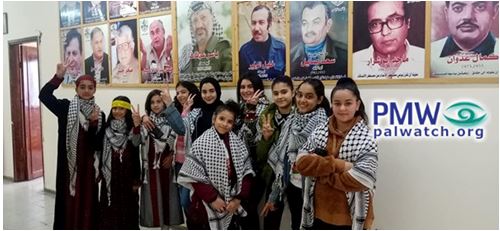 Sakher Habash - Fatah co-founder who was in Lebanon with PLO Chairman Yasser Arafat in the 1970s and was appointed Fatah regional commander of Lebanon in 1972. Habash was a Fatah Central Committee member from 1989 to 2009, when he died of natural causes.
Abd Al-Qader Al-Husseini - Arab commander in the 1948 war.
Yasser Arafat – Founder of Fatah and former chairman of the PLO and PA. During the 1960s, 70s and 80s Arafat was behind numerous terror attacks against Israelis. Although he received the Nobel Peace Prize in 1994 together with then Israeli Prime Minister Yitzhak Rabin and then Israeli Minister of Foreign Affairs Shimon Peres "for their efforts to create peace in the Middle East" after signing the Oslo Accords peace agreement, Arafat launched a 5-year terror campaign - the second Intifada (2000-2005) – in which more than 1,000 Israelis were murdered. Arafat died of an illness in 2004.
Abu Jihad (Khalil Al-Wazir) - was a founder of Fatah and deputy to Yasser Arafat. He headed the PLO terror organization's military wing and also planned many deadly Fatah terror attacks in the 1960's - 1980's. These attacks, in which a total of 125 Israelis were murdered, included the most lethal in Israeli history - the hijacking of a bus and murder of 37 civilians, 12 of them children.
Saad Sayel - Senior Fatah commander. He led the PLO forces that were based in Lebanon during the early 1980s.
Majed Abu Sharar - senior Fatah and PLO leader from the 1970s.
Kamal Adwan was responsible for Fatah's terrorist operations in Israel in the early 1970's and was a senior member of Black September, a secret branch of Fatah. He was killed by Israeli forces in April 1973.