Winter camp for young girls is named after the terrorist Dalal Mughrabi, murderer of 37 people including 12 children
Imagesand text posted on the Facebook page of the Fatah Shabiba High School Movement Committees – Salfit Branch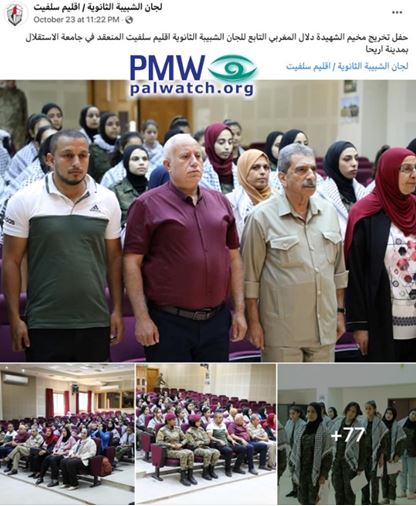 Posted text: "The graduation ceremony of the Martyr Dalal Mughrabi camp (i.e., terrorist who led the murder of 37 people, 12 of them children), which is subordinate to the [Fatah] Shabiba High School [Movement] Committees – Salfit Branch and was held at Al-Istiqlal University (i.e., PA Security Forces university) in Jericho.
Shabiba High School Committees – Salfit Branch"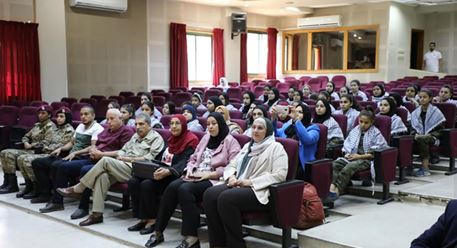 The images show Fatah Central Committee member Tawfiq Tirawi and Fatah Salfit Branch Secretary Abd Al-Sattar Awwad attending the graduation ceremony of the Fatah camp.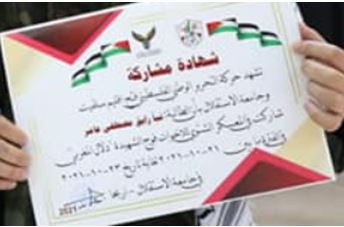 Text on certificate: "Certificate of Participation
The Fatah Movement - Salfit Branch
and Al-Istiqlal University attest that female student [NAME]
participated in the sisters' winter camp, Class of Martyr Dalal Mughrabi
between the dates of Oct. 21, 2021 - Oct. 23, 2021
Al-Istiqlal University, Jericho"
Dalal Mughrabi – female Palestinian terrorist who led the most lethal terror attack in Israel's history, known as the Coastal Road massacre, in 1978, when she and other Fatah terrorists hijacked a bus on Israel's Coastal Highway, murdering 37 civilians, 12 of them children, and wounding over 70.