In Christmas Facebook post, Fatah Central Committee Deputy Secretary Sabri Saidam claims that Jesus is a Palestinian
Image and text posted on the Facebook page of Fatah Central Committee Deputy Secretary Sabri Saidam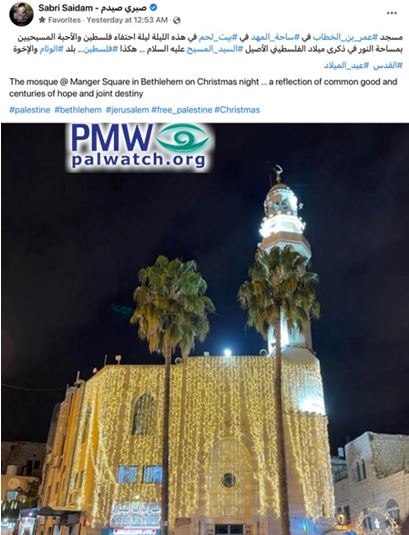 Posted text: "The #Omar_ibn_Al-Khattib Mosque at #Manger_Square in #Bethlehem. On this night, the night on which Palestine and the beloved Christians celebrate on the illuminated ground the birthday of the true Palestinian #messiah [Jesus], peace be upon him. This is #Palestine, the land of #harmony and comradeship.
#Jerusalem #Christmas
(The following is written in English -Ed.)
The mosque @ Manger Square in Bethlehem on Christmas night ... a reflection of common good and centuries of hope and joint destiny
#palestine #bethlehem #jerusalem #free_palestine #Christmas"
The image shows the Mosque of Omar in Bethlehem decorated with lights for Christmas.
Sabri Saidam also serves as Fatah Revolutionary Council Deputy Secretary and is the former PA Minister of Education and Higher Education.