Celebrating 57 years since Fatah's first terror attack against Israel, Palestinians wave banners to commemorate terrorist murderers
Official PA TV News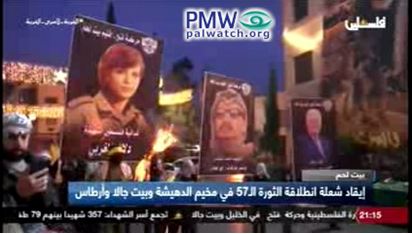 Visual:
Celebrations in Bethlehem and Beit Jala of the 57th anniversary of "the Launch" of Fatah, counted from its first terror attack against Israel, are shown. Participants are seen carrying signs showing from left to right: Dalal Mughrabi, a terrorist who led the murder of 37 people, 12 of them children; former PLO and PA Chairman Yasser Arafat; and PA Chairman Mahmoud Abbas.
Text on poster of Dalal Mughrabi: "Fatah Movement – Bethlehem Branch
The self-sacrificing fighter of Palestine, Martyr Dalal Mughrabi"
Intilaqa - "the Launch" refers to the beginning of Fatah on Jan. 1, 1965, when it carried out its first terror attack against Israel, attempting to blow up Israel's National Water Carrier.
Dalal Mughrabi – female Palestinian terrorist who led the most lethal terror attack in Israel's history, known as the Coastal Road massacre, in 1978, when she and other Fatah terrorists hijacked a bus on Israel's Coastal Highway, murdering 37 civilians, 12 of them children, and wounding over 70.
Yasser Arafat – Founder of Fatah and former chairman of the PLO and PA. During the 1960s, 70s and 80s Arafat was behind numerous terror attacks against Israelis. Although he received the Nobel Peace Prize in 1994 together with then Israeli Prime Minister Yitzhak Rabin and then Israeli Minister of Foreign Affairs Shimon Peres "for their efforts to create peace in the Middle East" after signing the Oslo Accords peace agreement, Arafat launched a 5-year terror campaign - the second Intifada (2000-2005) – in which more than 1,000 Israelis were murdered. Arafat died of an illness in 2004.