PA Prime Minister distorts reality, saying the Palestinian terrorist who was shot in self-defence was "executed," and the attempted killer should "dwell in the expanses of paradise"
Image and text posted on the Facebook page of PA Prime Minister Muhammad Shtayyeh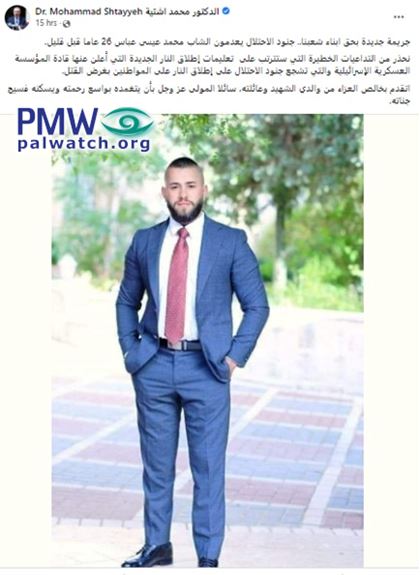 The image shows terrorist Muhammad Issa Abbas, who shot at Israeli soldiers who shot and killed him in self-defense.
Posted text: "A new crime against our people… the occupation soldiers execute young Muhammad Issa Abbas (i.e., terrorist, shot at soldiers), 26, a short time ago.
We warn against the severe consequences that will develop from the new open-fire orders that were announced by the Israeli military establishment commanders, which encourage the occupation soldiers to shoot civilians in order to kill (sic., refers to new open-fire orders allowing soldiers to shoot at terrorists who have thrown rocks or firebombs even if they are no longer in the act of attacking).
I send condolences to the parents of the Martyr and his family and ask that the Almighty Creator wrap him in His mercies and have him dwell in the expanses of Paradise."
Muhammad Issa Abbas – 26-year-old Palestinian terrorist who shot at Israeli soldiers who were pursuing terror suspects in El-Bireh on Dec. 22, 2021. The soldiers returned fire, killing Abbas. Abbas was previously arrested for terror activity and served 4 years.
Israeli open-fire policy of November 2021 - The Israeli army revised its open-fire policy for soldiers in the West Bank, which was reported on Dec. 19, 2021 as having been in effect since November 2021. According to the new policy, soldiers can shoot at the lower body of terrorists who have thrown rocks or firebombs at Israeli civilians, even if the terrorist is no longer in the act of attacking. However, soldiers must first go through the suspect arrest protocol of calling for the terrorist to stop, warning that they will open fire, and firing in the air before shooting at the terrorists. The revision is meant to prevent terrorists from being able to flee the scene and evade justice.