Fatah official Abbas Zaki "comforts" family of terrorist
Images and text posted on the Facebook page of Fatah Central Committee member Abbas Zaki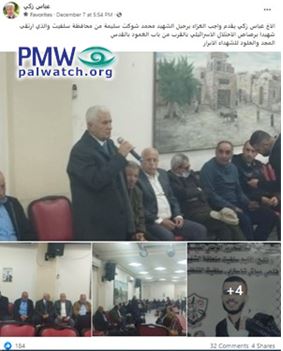 Posted text: "[Fatah Central Committee member] brother Abbas Zaki upholds the commandment of comforting the mourners over the death of Martyr Muhammad Shawkat Salima (i.e., terrorist, wounded 1 person) from the Salfit district, who was shot by the Israeli occupation and ascended to Heaven as a Martyr adjacent to the Damascus Gate in Jerusalem. Glory and eternity for the pure-hearted Martyrs."
The images show Fatah Central Committee member Abbas Zaki visiting the family of terrorist Muhammad Shawkat Salima. One of the images shows a poster at the event featuring terrorist Salima. On the top left is the Fatah logo that includes a grenade, crossed rifles, and the PA map of "Palestine" that presents all of Israel together with the PA areas as "Palestine," and under it are pictures of former PLO and PA Chairman Yasser Arafat and PA Chairman Mahmoud Abbas.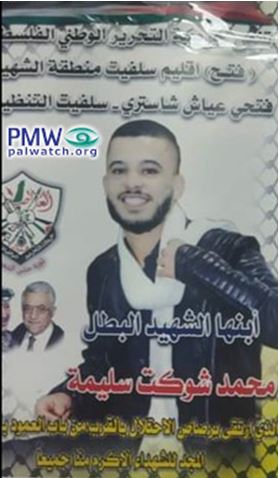 Text on poster: "The Palestinian National Liberation Movement 'Fatah' in the Salfit area… announces… [the death of] its heroic Martyr son – Muhammad Shawkat Salima – who was shot by the occupation and ascended to Heaven adjacent to the Damascus Gate… Praise and glory for those who are more honorable than us all."
Abbas Zaki also holds the position as Fatah Commissioner for Arab and China Relations
Muhammad Shawkat Salima – 25-year-old Palestinian terrorist who stabbed and wounded 1 Israeli civilian near the Damascus Gate of the Old City of Jerusalem on Dec. 4, 2021, and then attempted to stab 2 Israeli border police officers who shot and killed him in self-defense. Security camera footage shows Salima repeatedly lunged at the officers even after being shot, causing them to continue firing out of fear he was trying to detonate a suicide bomb or use another weapon.