Palestinian prisoner completes Master's degree while in prison, under the supervision of terrorist leader
Image and text posted on the official Fatah Facebook page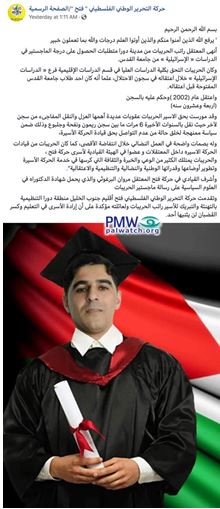 The image shows a modified picture of Rateb Al-Hreibat's head photoshopped on a body wearing a graduation cap and gown and holding a rolled diploma, with the Palestinian flag in the background.
Posted text: "In the name of All-Merciful Allah
'Allah will raise those who have believed among you and those who were given knowledge, by degrees. And Allah is Acquainted with what you do' [Quran 58:11]
Prisoner Rateb Al-Hreibat (PMW was unable to determine the details of his crimes –Ed.) from Dura has completed the requirements to receive a master's degree in 'Israeli Studies' from Al-Quds University.
Al-Hreibatregistered with the university for advanced studies at the regional studies faculty with a specialization in 'Israeli Studies' during his imprisonment in the occupation's prisons. It should be noted that he was a student at Al-Quds Open University before his imprisonment.
Al-Hreibat was arrested in 2002 and sentenced to 24 years of imprisonment…
Fatah Movement leader prisoner Marwan Barghouti (i.e., terrorist, orchestrated three attacks in which 5 people were murdered), who holds a doctorate in political science, supervised Al-Hreibat's master's degree thesis."
Marwan Barghouti – Palestinian terrorist and member of the Palestinian Authority parliament who is serving 5 life sentences for orchestrating three shooting attacks in which 5 people were murdered: one attack on the Jerusalem-Maale Adumim road (June 12, 2001) in which Greek Orthodox monk Tsibouktsakis Germanus was murdered by terrorists Ismail Radaida and Yasser Ah'Rabai, another attack at a gas station in Givat Zeev near Jerusalem (Jan. 15, 2002) in which Yoela Hen was murdered by terrorists led by Mohammed Matla, and one shooting and stabbing attack at the Seafood Market restaurant in Tel Aviv (March 5, 2002) in which Eli Dahan, Yosef Habi, and Police Officer Sergeant-Major Salim Barakat, were murdered by terrorist Ibrahim Hasouna. When arrested by Israel in 2002, Barghouti headed the Tanzim (Fatah terror faction). After he was convicted and imprisoned, he was re-elected as a member of the Palestinian Authority parliament. On Dec. 4, 2016, he was elected to Fatah's Central Committee.