Palestinian terrorist prisoner completes Fatah staff training course while serving time in Israeli prison
Official PA TV program Good Morning Jerusalem, on terrorist prisoner Khaled Bastami who wounded 4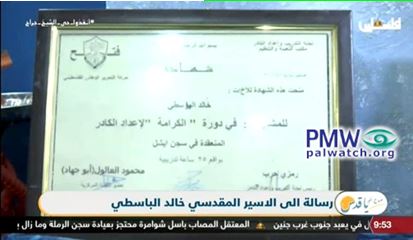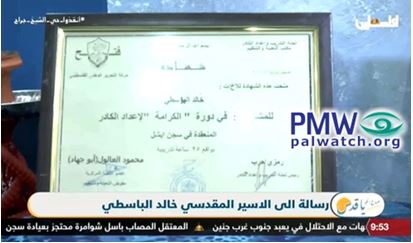 Visual:
A shelf in the house of terrorist prisoner Khaled Bastami is seen, and on it is an official certificate for Bastami for participating in a Fatah staff training course at Eshel Prison. In the upper left corner is the Fatah logo that includes a grenade, crossed rifles, and the PA map of "Palestine" that presents all of Israel together with the PA areas as "Palestine."
Text on certificate: "Fatah – The Palestinian National Liberation Movement
Staff Training and Preparation Committee – Mobilization and Organization Office
Certificate
This certificate is presented to brother: Khaled Bastami
For his participation in the 'Al-Karameh' staff training course
That was held at Eshel Prison
And constituted of 25 training hours
[Signed by:]
Staff Training and Preparation Committee Head Ramzi Harb
[Fatah] Central Committee member [and] Commissioner for Mobilization and Organization Mahmoud Al-Aloul"
Mahmoud Al-Aloul also serves as Fatah Central Committee member.
Khaled Bastami - Palestinian terrorist from East Jerusalem who stabbed and wounded 4 Israeli civilians in the Israeli town of Ra'anana on Oct. 13, 2015. Bastami is serving a 21 year sentence.
The Karameh battle, or Al-Karameh - On March 21, 1968, Israeli army forces attacked the town of Karameh in Jordan, where Fatah terrorists had been launching attacks on Israel. Although Israel prevailed militarily, Arafat used the event for propaganda purposes, declaring the battle a great victory that erased the disgrace of the 1967 Six Day War defeat.