"Israel and the Jews have no right" to the Cave of the Jewish Patriarchs, claims Supreme Shari'ah Judge
Video and text posted on the Facebook page of Supreme Shari'ah Judge Mahmoud Al-Habbash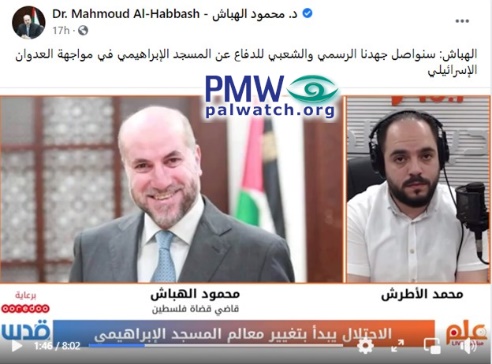 Posted text: "[Supreme Shari'ah Judge Mahmoud] Al-Habbash: We will continue the national and popular effort to defend the Ibrahimi Mosque (i.e., Cave of the Patriarchs) from the Israeli aggression (refers to renovation work to make the site accessible for the disabled -Ed.)"
Video:
The video is of an interview of Al-Habbash on the Hebron radio station Al-Alam.
Supreme Shari'ah Judge Mahmoud Al-Habbash: "The aggression against the Ibrahimi Mosque is old and new and ongoing, and we view it with utmost severity. We oppose any step that Israel carries out. We oppose any intervention by Israel, because Israel and the Jews have no right – not historically and not religiously – to any centimeter of this purely Islamic mosque."
Mahmoud Al-Habbash also serves as Chairman of the Supreme Council for Shari'ah Justice. In August 2019 PA Chairman Abbas dismissed all his advisors by Presidential decree. It is unclear what their status is today.