"The intifada gave birth to you and the struggle raised you" – Fatah glorifies murderer terrorist
Video and text posted on the Facebook page of the Fatah Commission of Information and Culture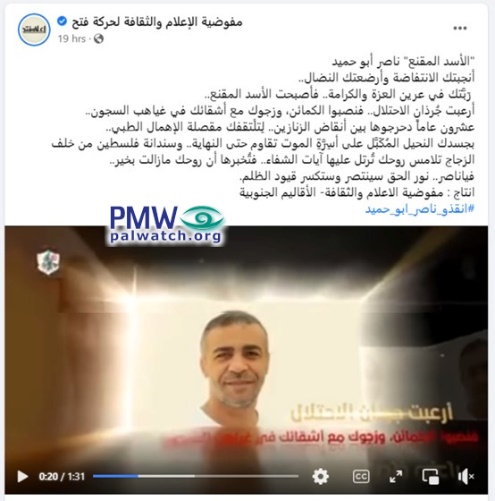 Text on post and on screen in video: "'The masked lion' Nasser Abu Hmeid (i.e., terrorist, responsible for the murder of 7 people)
The intifada gave birth to you and the struggle raised you
They educated you in the den of pride and honor, and thus you became the masked lion
You imposed fear on the occupation's rats, and they set ambushes and threw you and your brothers into the depths of the prison (i.e., Um Nasser Abu Hmeid's terrorist sons who are responsible for at least 10 murders; see note below)
For 20 years you moved between the ruins of the [prison] cells until the guillotine of medical neglect (sic., see note below regarding PA libel on medical abuse of Palestinian prisoners) got you
As your gaunt body is chained to the bed of death, you resist until the end
And 'the oak tree of Palestine' (i.e., Um Nasser Abu Hmeid) touches your soul from the other side of the glass and recites verses of healing to know that your soul is yet well
O Nasser, the light of truth will triumph and break the chains of oppression
Production: [Fatah] Commission of Information and Culture in the southern districts (i.e., the Gaza Strip)
#Save_Nasser_Abu_Hmeid"
Nasser Abu Hmeid - Palestinian terrorist and a commander of the Al-Aqsa Martyrs' Brigades (Fatah's military wing) in Ramallah who was responsible for the murder of 7 Israelis: Eli Cohen in a shooting attack on Route 443 in central Israel on Dec. 21, 2000; Binyamin and Talia Kahane in a drive-by shooting attack near Ofra, north of Jerusalem, on Dec. 31, 2000; Gadi Rejwan in a shooting attack in the Jerusalem neighborhood of Atarot on Feb. 27, 2002; and Yosef Habi, Eli Dahan, and Police Officer Sergeant-Major Salim Barakat in an attack at the Seafood Market and Mifgash Hasteak restaurants in Tel Aviv on March 5, 2002. Abu Hmeid is serving 7 life sentences and an additional 50 years.
Um Nasser Abu Hmeid – Palestinian woman famous and admired in the PA for being the mother of 5 terrorist prisoners serving life sentences (4 of them serving multiple life sentences), and another whom the PA refers to as a "Martyr." Abu Hmeid is also called Khansa of Palestine, which refers to Al-Khansa from the earliest period of Islam who sent her four sons to battle and rejoiced when they all died as Martyrs. Abu Hmeid was honored by the PA in 2010 and 2015, and was chosen in 2011 to launch the PA's statehood campaign with the UN. Her terrorist sons: Islam Yusuf Abu Hmeid, murdered 1 on May 24, 2018, and is serving life in prison and an additional 8 months; Muhammad Abu Hmeid, serving 2 life sentences and 30 years for involvement in terror attacks; Nasser Abu Hmeid, serving 7 life sentences and 50 years for murdering 7 Israeli civilians and 12 attempted murders; Nasr Abu Hmeid, serving 5 life sentences for involvement in two terror attacks in which 4 were murdered, and arms dealing; Sharif Abu Hmeid, serving 4 life sentences for involvement in terror attacks in which 4 were murdered; Abd Al-Mun'im Muhammad Yusuf Naji Abu Hmeid, murdered 1 on Feb. 13, 1994, and was killed by Israel on May 31, 1994.
Libel on medical abuse of Palestinian prisoners - the PA claims that Israel abuses Palestinian prisoners, through medical neglect, medical experiments, and by intentionally infecting them with diseases. However, the International Red Cross regularly visits these prisoners and has not documented or accused Israel of any of these claims. Likewise, lists of demands occasionally issued by the prisoners during hunger strikes - such as during one in 2011 - include no demands relating to these claims. PMW has documented prisoners talking about how they "lack nothing" in the prisons, and that "the worst thing about Israeli prison" is riding in a prison vehicle that has no padding on the seat. When PMW contacted the Israeli Ministry of Health in 2007 regarding PA claims of medical experiments on prisoners, the ministry responded: "Clinical testing on prisoners in prison was never approved, never performed, and is most certainly not taking place at present."