"May Allah wrap Martyr Suleiman Al-Hathalin in His mercies" - PA Supreme Shari'ah Judge glorifies violent rioter
Image and text posted on the Facebook page of PA Supreme Shari'ah Judge Mahmoud Al-Habbash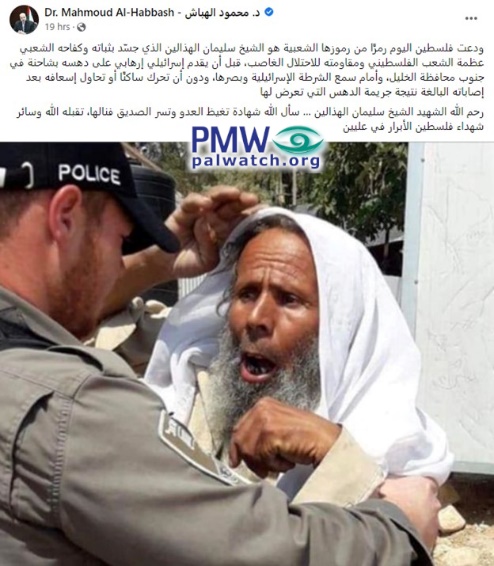 The image shows Arab protester Suleiman Al-Hathalin confronting an Israeli border police officer.
Posted text: "Today [Jan. 18, 2022] Palestine bids farewell to one of its popular symbols, Sheikh Suleiman Al-Hathalin (i.e., Arab protester killed while participating in a violent riot), who with his firmness and popular struggle embodied the Palestinian people's greatness and its resistance to the thieving occupation, but a terrorist Israeli ran him over with his truck in the southern Hebron district (sic., refers to driver of tow truck in service of police who was wounded by rocks in the riot and tried to flee, hitting Al-Hathalin who was blocking his vehicle). This was before the eyes and ears of the Israeli police, who did not raise a finger or attempt to provide him with aid after he was severely wounded as a result of the car-ramming crime (police were unable to provide aid because they were under attack by rock-throwing Arab rioters -Ed.).
May Allah wrap Martyr Suleiman Al-Hathalin in His mercies. He asked Allah for a Martyrdom-death that would enrage the enemy and gladden the friend, and he got it."
Mahmoud Al-Habbash also serves as Chairman of the Supreme Council for Shari'ah Justice. In August 2019 PA Chairman Abbas dismissed all his advisors by Presidential decree. It is unclear what their status is today.
Suleiman Al-Hathalin – 65-year-old Arab protester who participated in a violent riot in the southern Har Hebron region in early January 2022, in which rioters threw rocks at police officers and a tow truck in the service of the Israeli police, wounding the driver. In fleeing the attackers, the tow truck hit Al-Hathalin who was blocking its path, critically wounding him; Al-Hathalin died of his wounds on Jan. 17, 2022. PA Chairman Mahmoud Abbas posthumously awarded Al-Hathalin with a medal of honor.
Extra info:
Al-Hathalin helped establish the illegal Arab village of Umm Al-Kheir on Israeli state land in the southern Har Hebron region. He participated in numerous violent riots in the past and was arrested several times.