Mother of terrorist who brutally murdered and mutilated Israeli soldiers laments her son, saying she "misses him"
Headline: "Prisoner Bayyoud begins his 21st year in the occupation's prisons"
"Prisoner Habbes Bayyoud (i.e., terrorist, participated in the murder of 2 people), 48, from the village of Al-Mazra'a Al-Gharbiya that is northwest of Ramallah, began his 21st year in the occupation's prisons.
Prisoner Bayyoud was sentenced to life and has been imprisoned in the occupation's Rimon (sic., Ramon) Prison since 2002.
Prisoner Bayyoud's mother, Um Yusuf, 73, said that the occupation's prisons have been accompanying her since 1973, as her four sons have been arrested again and again since that year. She added that she misses her son Habbes, particularly because the occupation has prevented her a number of times from visiting him in prison.
Prisoner Bayyoud was arrested in 2002 after the Israeli tanks invaded the cities of the West Bank (i.e., Operation Defensive Shield, see note below). He was accused at the time of participating in the killing of occupation soldiers who invaded Ramallah's old police station (sic., refers to lynching of 2 Israeli reserve soldiers who accidentally entered Ramallah and sought shelter with the PA police), before the occupation's planes bombed it and completely destroyed it at the time."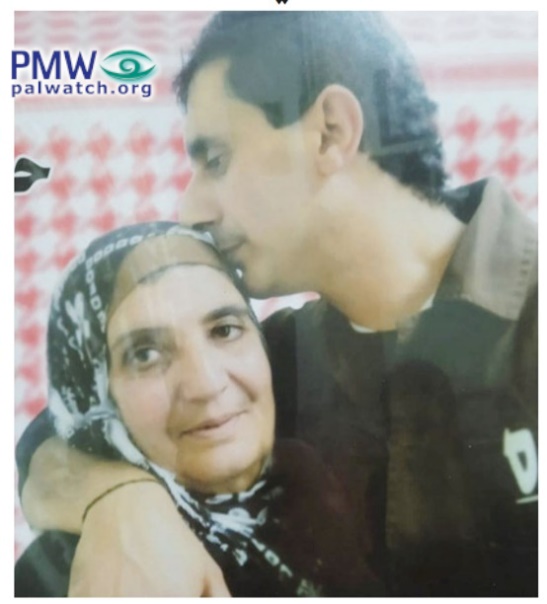 The article includes a picture of terrorist prisoner Habbes Bayyoud with his mother Um Yusuf Bayyoud.
Habbes Bayyoud – Palestinian terrorist who participated in the Ramallah lynching on Oct. 12, 2000, in which a Palestinian mob brutally murdered and mutilated the bodies of two Israeli reserve soldiers, Vadim Nurzhitz and Yossi Avrahami, who had accidentally entered Ramallah. Bayyoud is serving 2 life sentences.
Operation Defensive Shield – a large Israeli military operation in April 2002 in response to the many suicide bombings during the PA terror campaign (the second Intifada, 2000-2005). Israel put Arafat under siege and invaded six of the largest West Bank cities in an attempt to destroy the terror infrastructure.