Fatah high official "proudly" visits the families of "heroic" terrorists killed while planning an imminent shooting attack
Images and text posted on the official Fatah Facebook page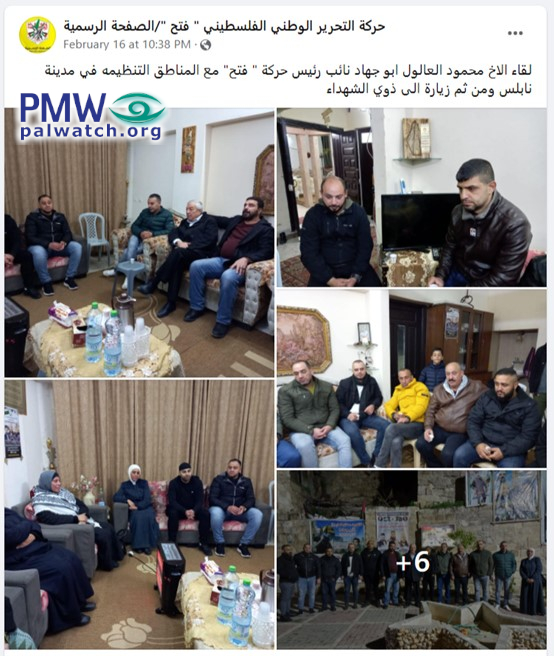 Posted text: "A meeting of Fatah Movement Deputy Chairman Mahmoud Al-Aloul 'Abu Jihad' with the organizational branches in Nablus and afterwards a visit to the families of the Martyrs [Adham Mabrouka, Muhammad Al-Dakhil, and Ashraf Mubaslat] (i.e., terrorists who were killed when planning an imminent shooting attack)"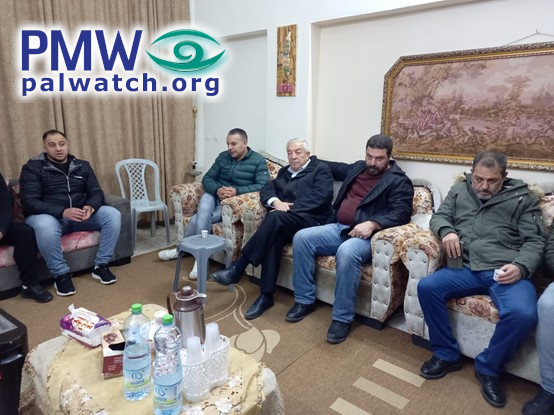 The image shows Fatah Deputy Chairman Mahmoud Al-Aloul sitting in the middle. On the wall in the background is a decoration featuring the PA map of "Palestine" that presents all of Israel together with the PA areas as "Palestine."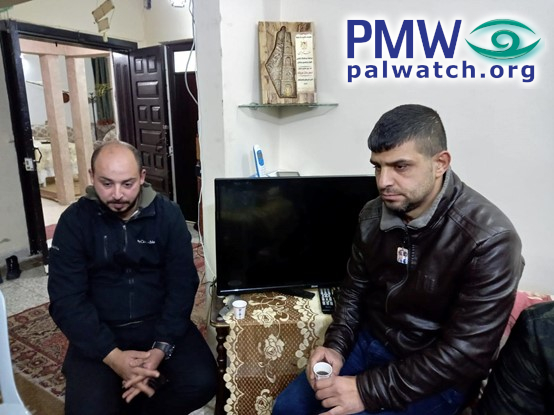 The image shows a decoration on the wall in the background featuring the PA map of "Palestine" with "Palestine" written on it.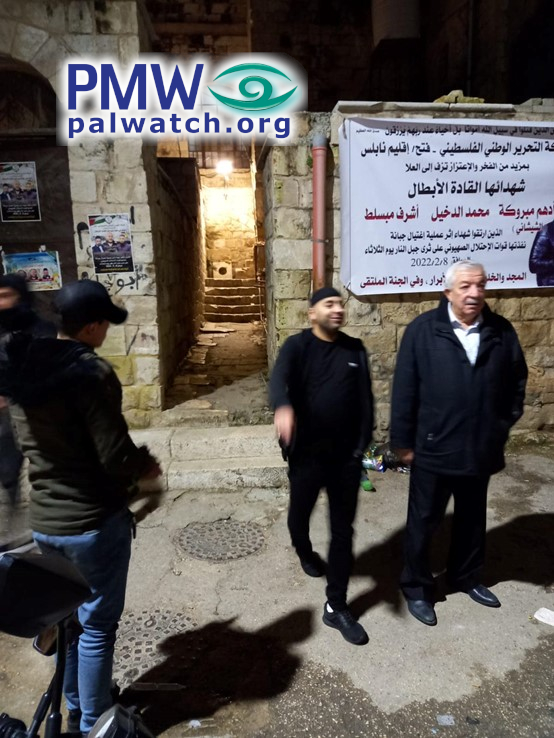 The image shows Mahmoud Al-Aloul standing in front of a poster.
Text on poster: "'And never think of those who have been killed in the cause of Allah as dead. Rather, they are alive with their Lord, receiving provision' [Quran 3:169, Sahih International translation]
The Fatah Nablus branch, with great honor and pride, accompanies to Heaven its heroic Martyr commanders
Adham Mabrouka
Muhammad Al-Dakhil
Ashraf Mubaslat
Who ascended [to Heaven] as Martyrs after a cowardly assassination operation that was carried out by the Zionist occupation forces on the land of Nablus on Tuesday, Feb. 8, 2022
Glory and eternity to the righteous Martyrs and we will meet in Paradise"
Mahmoud Al-Aloul also serves as Fatah Central Committee member.
Adham Mabrouka Al-Shishani, Muhammad Al-Dakhil, and Ashraf Mubaslat – Palestinian terrorists and members of the Al-Aqsa Martyrs' Brigades (Fatah's military wing) who were shot and killed by Israeli security forces in Nablus on Feb. 8, 2022. When killed the terrorists were armed with two M-16 semi-automatic assault rifles and intelligence indicated that they were planning an imminent terror attack. The terrorists had already committed six shooting attacks against Israeli civilians and soldiers in previous weeks, among them: Jan. 25, 2022 - shooting on an Israeli military post near Nablus. Jan. 27, 2022 - shooting on a military post between the Israeli towns of Elon Moreh and Itamar east of Nablus. Jan. 29, 2022 - shooting on an Israeli military vehicle as it drove next to the PA village of Tell southwest of Nablus. Feb. 2, 2022 - shooting on a military post at an entrance to Nablus. PMW was unable to determine the details of the remaining two attacks, which reportedly targeted Israeli towns.