PA names summer camp for girls after female terrorist mass murderer who killed scores of children
Images and text posted on the Facebook page of "the Lion Cubs and Flowers Institution" – the Fatah Youth Institution for Young Boys and Girl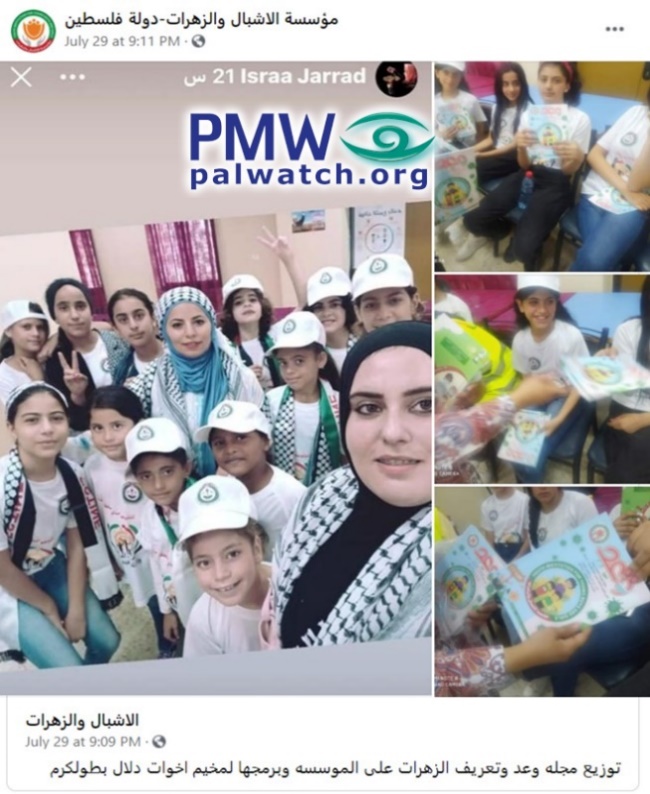 Posted text: "Distributing the Waed Magazine to girl [participants in] the 'Sisters of Dalal [Mughrabi]' summer camp (i.e., terrorist who led the murder of 37 people, 12 of them children) in Tulkarem and getting them familiar with the [Lion Cubs and Flowers] Institution and its programs."
The images show copies of the Waed Magazine being distributed to girl summer camp participants.
Waed Magazine is published by the Lion Cubs and Flowers movement (Fatah's movement for young boys and girls) - which is run by the Fatah Mobilization and Organization Commission. Waed is distributed in schools and at Fatah events for children and it is also published on the movement's website, defining itself as "a cultural monthly that deals with issues related to children aged 6-15." The magazine contains quizzes, short stories, and educational information, some of which promote hate and terror, deny Israel's right to exist, praise "the armed struggle" (i.e., violence and terror), rewrite/erase Israel's history, glorify Martyrdom-death, and praise imprisoned and dead terrorists.
Dalal Mughrabi – female Palestinian terrorist who led the most lethal terror attack in Israel's history, known as the Coastal Road massacre, in 1978, when she and other Fatah terrorists hijacked a bus on Israel's Coastal Highway, murdering 37 civilians, 12 of them children, and wounding over 70.