"We'll liberate the land, not a single Jew will remain," says daughter of terrorist murderer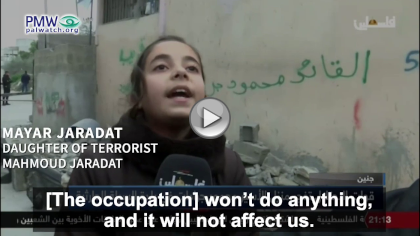 All of Israel - including Lod, Ramle, the Negev, Jaffa, and Haifa - is "Palestine" and "belongs to us," according to Fatah official
"Not a single settler, Israeli, or Jew will remain in our land. We will liberate Palestine, Allah willing."
Those are the words of a young Palestinian girl. But not just any girl. Mayar Jaradat is the daughter of one of the terrorists who recently murdered 25-year-old Israeli Yehuda Dimentman in a shooting attack west of Nablus.
Mayar Jaradat, daughter of terrorist Mahmoud Jaradat: "[The occupation] won't do anything, and it will not affect us. It will leave our land and won't remain. We'll liberate our land from it. It won't remain at all. Not a single settler, Israeli, or Jew will remain in our land. We will liberate Palestine, Allah willing."

[Official PA TV News, Feb. 14, 2022]
Mayar's statement reflects PA education that instructs Palestinian children to see Israel as a temporary phenomenon, an illegitimate state that will come to an end after which "Palestine" will take its place.
The statement that "not a single settler, Israeli, or Jew will remain in our land" is pretty unambiguous. "Palestine" will be "Judenrein" - clean of Jews - to quote an infamous familiar term. How exactly this is to come about the girl didn't say, but given her terrorist father's actions this aspiration would seem to not merely be an abstract concept but rather a plan to be carried out on the ground.
The notion that terror is a Palestinian right and that dying as a "Martyr" is an ideal is also taught to Palestinian kids through Fatah's magazine Waed for children ages 6-15, as recently exposed in a report by Palestinian Media Watch.
Fatah reminds its child readers of the Movement's announcement after its first terror attack on Jan. 1, 1965, presenting it as an expression of its current ideology:
"[It is] our people's right to wage an armed struggle to take back its stolen homeland." (Waed, Issue 28, p. 4)
Fatah also presents mass murderers as heroic role models, including the "Martyr" Dalal Mughrabi who in 1978 led the Coastal Road massacre. Palestinian terrorists hijacked a bus and murdered 37 Israeli civilians, including 12 children - the deadliest terror attack in Israeli history.
In Waed, Fatah also teaches children that "Palestine" will replace the entire State of Israel
Jewish history in the land is rewritten as "Palestinian" history, claiming that Palestinians are descendants of a "Palestinian-Arab-Canaanite" people who existed "5,000 years ago," or "perhaps 10,000 years ago." (Waed, Issue 37, pp. 13 and 22) Israelis, on the other hand, are "foreigners who did not know Palestine and did not live in it – neither them nor their fathers and forefathers." (Waed, Issue 36, p. 2) Therefore, Fatah teaches its child readers the common "goal" is "liberating Palestine from the thieving Zionist entity and restoring the right to its Palestinian owners, who own the right, the homeland, and the land." (Waed, Issue 32, p. 3) Fatah visually stresses this point by showing maps in which all of Israel is labeled "Palestine":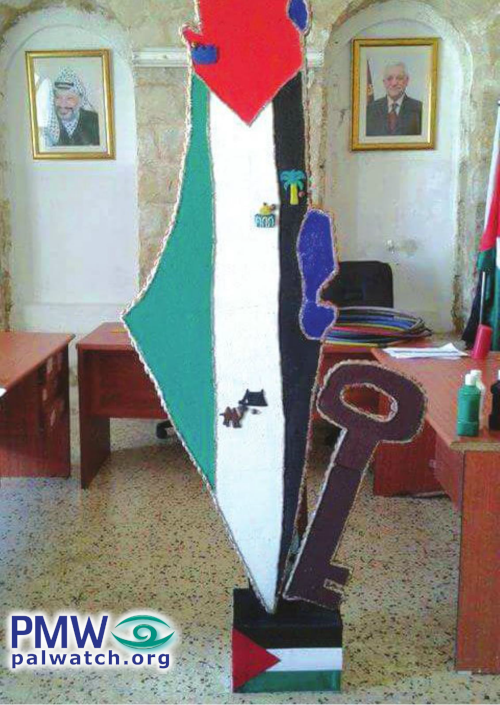 Echoing PA education, another young girl exemplified what "liberation of Palestine" means geographically – replacing Israel "from the Mediterranean Sea to the Jordan River":
Girl (in English): "We're going to free Palestine
And finally comes our time
We're going to free our land
Together and hand in hand
Palestine will be free
From the [Jordan] River to the [Mediterranean] Sea
No, we can't hesitate
We're going to build our state
The refugees will come back
And here flies our flag"

[Facebook page of the Fatah Youth Institution for Young Boys and Girls – Nablus Branch, Nov. 18, 2021]
A few weeks ago, a Fatah official also reiterated the message that all of Israel belongs to the Palestinians, presenting specific cities and places within Israel as "occupied lands" that "belong to us":
Fatah Revolutionary Council member Abd Al-Ilah Atteereh: "The message that has been sent from the occupied lands, from Lod, Ramle, the Negev, Jaffa, and Haifa (i.e., all in Israel) in the previous periods is a message that the Zionists need to understand: The Palestinian people, even though 74 years have passed since the Nakba (i.e., Israel's establishment), is still one people. The one who lives in Lod, Jaffa, Haifa, the Negev (i.e., all in Israel), Nablus, Hebron, or Jerusalem, continues to stick [to the idea] that Palestine belongs to us."

[Official PA TV, Feb. 8, 2022]
Mayar Jaradat is the daughter of terrorist murderer Mahmoud Jaradat.
Muhammad, Mahmoud, Ghaith, and Omar Jaradat – Palestinian terrorists who murdered 25-year-old Israeli Yehuda Dimentman in a shooting attack near Homesh, west of Nablus, on Dec. 16, 2021. Two other Israelis were wounded in the attack. Israel arrested the four terrorists and seized two M-16 semi-automatic assault rifles from them on Dec. 19, 2021. The four are still on trial as of Feb. 28, 2022.