Boasting about the number of Israelis killed by PLO, Fatah says Hamas and the PLO should be "partners," not "competitors"
Video posted on the Facebook page of the Fatah Commission of Information and Culture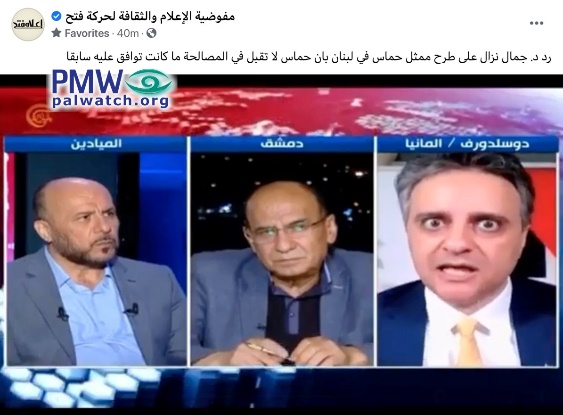 Fatah Spokesman and Fatah Revolutionary Council member Jamal Nazzal: "I don't have the number 1-1-1, which is 1,111 (sic., 111). I have this number: 667 (Nazzal holds up a page with "1982 = 676" written on it, despite saying "667" -Ed.). In 1982, the PLO forces killed 676 Israeli army personnel in the Israeli invasion of Lebanon (i.e., the First Lebanon War). This number is higher than the Israelis killed in the three wars that took place [in Gaza] in recent years by 560 (Nazzal holds up a page with "2009 = 9," "2014 = 68," and "2021 = 12" written on it -Ed.).
In the 2009 war Israel lost 9 soldiers, in the 2014 war 60 soldiers, and in the 2021 war 12 were killed including 2 of Palestinian origin (refers to Hamas rocket barrages; see note below -Ed.).
The PLO is not a partner so that we will call it 'the administrative board.' There are economically small factions in the PLO that has been fighting Israel for 40 years. In that period, in 1990 I took the high school matriculation exam in Palestine. That summer, the Democratic Front for the Liberation of Palestine (DFLP) lost 30 Martyrs who came through the Lebanese-Palestinian (i.e., Israeli) border to carry out operations (i.e., terror attacks) against Israel.
If you would come today to a faction the size of the DFLP with minimal economic capabilities and tell it: 'I'm called Hamas, I carried out the first military operation against the Israeli occupation in 1991 – 100 years after the start of the Israeli attack on Palestine,' it would tell me: 'I also have a right.' Here I say, the sacrifices that all the factions have made, including the Hamas Movement, are worthy of respect and appreciation.
The sacrifices being made by the PLO factions and the Palestinian people that is not in the framework of any faction are worthy of respect and appreciation. But this is not a competition, this is not the world cup of blood, it is not the world cup, it is partnership. And we want the partnership to be in the framework of true respect."
The First Lebanon War – The First Lebanon War began on June 6, 1982 following a long period of PLO attacks against Israel and after terrorists from the Abu-Nidal terror group attempted to assassinate Israeli Ambassador to the UK Shlomo Argov. The war began as a short-term operation called "Operation Peace for Galilee," which aimed to destroy the militant infrastructure on Israel's border with Lebanon. The war ended up lasting until 1985, when the Israeli army withdrew from Lebanon, leaving behind a token force (which withdrew in 2000) to aid the Lebanese in patrolling the security zone along the border. Israel suffered more than 1,200 fatalities in the war.
Fatah/Hamas Riot and Rocket War 2021 – On April 30, 2021, facing certain electoral defeat, PA Chairman Mahmoud Abbas cancelled the first PA elections scheduled in 15 years. Hamas, which expected to win the elections, denounced it as a "coup." In need of a conflict to divert public discontent, Abbas artificially generated a crisis over Jerusalem. His Fatah party called for "raising the level of confrontation," and Abbas' spokesman told Palestinians "the battle of all battles is here." Jerusalem Arabs responded by attacking Jews with rocks and Molotov cocktails. Hamas, Abbas' political rival, could not allow Abbas to lead the battle, so on May 10, 2021, Hamas launched rocket barrages targeting Israeli population centers including Jerusalem. Over the next 11 days, Hamas and Islamic Jihad fired over 4,300 rockets into southern and central Israel from the Gaza Strip, killing 9 Israelis and 3 foreign nationals, and wounding hundreds. In response, Israel launched Operation Guardian of the Walls to target Hamas terror leaders and terror infrastructure in the Gaza Strip. Already in mid-April, a planned eviction of some Palestinian families illegally living in Jewish-owned buildings in the Sheikh Jarrah neighborhood of Jerusalem had led to clashes between Palestinian residents and Israeli police. This dispute provided Palestinians with a pretext for violent rioting. Adding to the crisis, Israeli Arabs started rioting throughout Israel, especially in cities with a mixed Jewish and Arab population. Two Jews were murdered and many were wounded. According to Walla, an independent Israeli news site, 10 synagogues were wholly or partly burned down; fires were set in 112 Jewish homes and 1 Arab home mistaken for a Jewish home; 386 Jewish homes were plundered and 673 were damaged; 849 cars were set ablaze; and there were 5,018 rock-throwing attacks. In response, Jews started attacking Arabs and their properties as well, but on a much smaller scale. No mosques were burned; 13 Arab homes were damaged; 13 Arab-owned cars were burned; and there were 41 rock-throwing attacks by Jews. [Walla, May 16, 2021] The fighting between Israel and Hamas ended with a ceasefire on May 21, 2021.