Govenor Ghannam visits families of terrorist murderers to "convey blessings to all our brave and lauded prisoners"
Images and text posted on the Facebook page of Ramallah and El-Bireh District Governor Laila Ghannam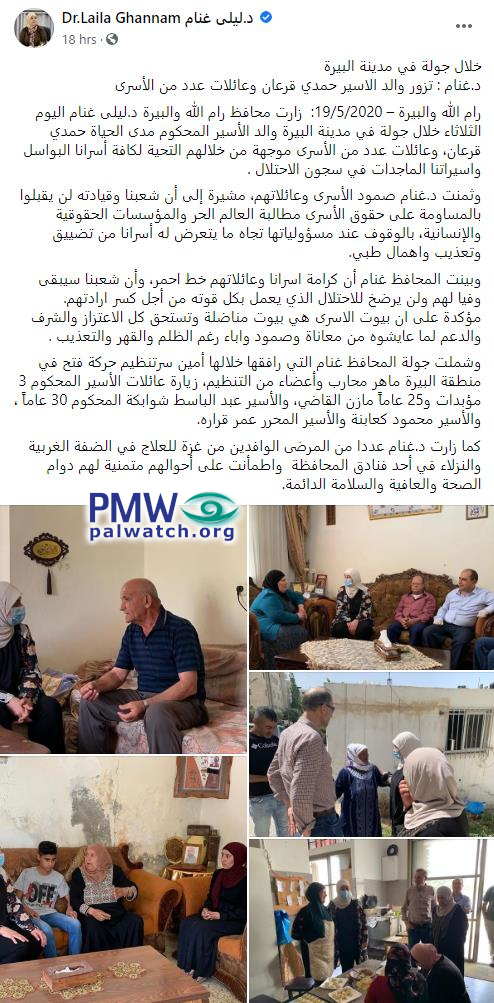 Posted text: "During a tour of El-Bireh today, Tuesday [May 19, 2020], Ramallah and El-Bireh District Governor Laila Ghannam visited the father of prisoner Hamdi Qur'an (i.e., terrorist, murdered Israeli Minister of Tourism Rechavam Ze'evi together with an accomplice), who is sentenced to life, and the families of a number of additional prisoners. She conveyed blessings to all our brave male prisoners and our lauded female prisoners in the occupation's prison.
Ghannam expressed her appreciation for the resolve of the prisoners and their families, and noted that our people and its leadership will not agree to bargaining over the prisoners' rights. She demanded that the free world, human rights organizations, and humanitarian organizations do what is required of them in light of the harassment, torture, and medical neglect that our prisoners are experiencing.
Ghannam explained that the dignity of our prisoners and their families is a red line, and that our people will remain loyal to them and will not submit to the occupation, which is attempting with all its might to break their willpower. She emphasized that the prisoners' homes are homes of fighters, which are worthy of all the honor and support because of the suffering they have experienced, their resolve, and their pride despite the injustice, oppression, and torture.
District Governor Ghannam's tour – during which she was accompanied by Fatah Movement El-Bireh Branch Secretary Maher Muharib and members of the branch – included a visit to the family of prisoner Mazen Al-Qadi (i.e., terrorist, involved in the murder of 3 people), who is sentenced to 3 life sentences and another 25 years."
The images show Ramallah and El-Bireh District Governor Laila Ghannam visiting the families of the terrorist prisoners.
Hamdi Qur'an – Palestinian terrorist and member of the Popular Front for the Liberation of Palestine (PFLP) terror organization who, together with Basel Al-Asmar, murdered Israeli Minister of Tourism Rechavam Ze'evi "Ghandi" at a hotel in Jerusalem on Oct. 17, 2001. Qur'an is serving a life sentence and an additional 100 years.
Mazen Al-Qadi – Palestinian terrorist who, together with Isaeli Arab terrorist and Al-Aqsa Martyrs' Brigades (Fatah's military wing) member Murad Nazmi Al-Ajlouni, drove terrorist Ibrahim Hassouneh to carry out an attack on two restaurants, the Seafood Market and Mifgash Hasteak, in Tel Aviv on March 5, 2002, in which 3 Israelis were murdered. Hassouneh shot from the car at diners and passersby with an assault rifle, wounding 15, and also threw two grenades that did not explode. When his weapon jammed, Hassouneh got out of the car with a knife and stabbed and murdered Yosef Habi, 52, and Eli Dahan, 53. Druze Israeli Police Officer Sergeant-Major Salim Barakat, 33, managed to subdue Hassouneh, but as Barakat was reporting his location to his police commander, Hassouneh suddenly broke free and stabbed Barakat in the throat, murdering him. Police shot and killed Hassouneh, while Al-Qadi and Al-Ajlouni fled the scene in their car, but were later arrested. Al-Qadi and Al-Ajlouni are each serving 3 life sentences and 20 additional years.
Libel on medical abuse of Palestinian prisoners - the PA claims that Israel abuses Palestinian prisoners, through medical neglect, medical experiments, and by intentionally infecting them with diseases. However, the International Red Cross regularly visits these prisoners and has not documented or accused Israel of any of these claims. Likewise, lists of demands occasionally issued by the prisoners during hunger strikes - such as during one in 2011 - include no demands relating to these claims. PMW has documented prisoners talking about how they "lack nothing" in the prisons, and that "the worst thing about Israeli prison" is riding in a prison vehicle that has no padding on the seat. When PMW contacted the Israeli Ministry of Health in 2007 regarding PA claims of medical experiments on prisoners, the ministry responded: "Clinical testing on prisoners in prison was never approved, never performed, and is most certainly not taking place at present."