PA police who fired at Israeli soldiers are "heroes" whose "pure blood watered the land with resistance, self-sacrifice, and heroic martyrdom"
Text posted on the official Fatah Facebook page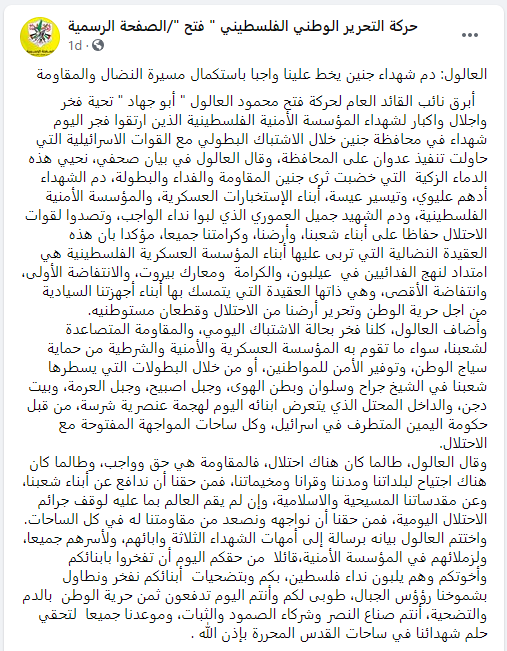 Posted text: "[Fatah Deputy Chairman and Fatah Central Committee member Mahmoud] Al-Aloul: The blood of the Jenin Martyrs imposes a duty upon us to continue the path of struggle and resistance
Fatah Deputy Chairman Mahmoud Al-Aloul 'Abu Jihad' sent a blessing of pride, appreciation, and honor to the Martyrs of the Palestinian [PA] security establishment who died as Martyrs today [June 10, 2021] in the early morning hours in the Jenin district, during a heroic confrontation with the Israeli forces who attempted to carry out aggression against the district (sic., the PA officers opened fire on Israeli undercover forces as they apprehended wanted terrorists; see note below).
In a press release, Al-Aloul said: We salute this pure blood that watered the land of Jenin with resistance, self-sacrifice, and heroism, the blood of Martyrs Adham Aliwi and Tayseer Ayaseh, members of the [PA] military intelligence and the Palestinian security establishment, and the blood of Martyr Jamil Al-Amouri (i.e., wanted Islamic Jihad terrorist), who responded to the call of duty and stood against the occupation forces while defending our people, our land, and our honor.
He emphasized that the ideology of struggle that the members of the Palestinian military establishment were educated on is a continuation of the path of the self-sacrificing fighters at Eilabun (refers to the Israeli National Water Carrier bombing; see note below -Ed.), Al-Karameh (see note below -Ed.), the battles of Beirut, the first Intifada (i.e., Palestinian wave of violence and terror against Israel, approximately 200 Israelis murdered, 1987-1993), and the Al-Aqsa Intifada (i.e., PA terror campaign 2000-2005, more than 1,100 Israelis murdered), and it is the same ideology that is adhered to by the members of our sovereign forces for the sake of the freedom of the homeland and the liberation of our land from the occupation and from its settler herds.
Al-Aloul added: We are all proud of our people's daily confrontations and the escalating resistance, whether it is what the military, security, and police establishment is doing, or the acts of heroism that our people are recording in the Sheikh Jarrah [neighborhood of Jerusalem], Silwan, Batn Al-Hawa, Jabal Sbeih, Jabal Al-'Arma, Beit Dajan, the occupied Interior (i.e., Palestinian term for Israel), whose people are being subjected to a fierce racist attack today by the extremist right-wing government in Israel, and in all arenas of the open confrontation with the occupation (refers to violent Arab riots; see note below -Ed.).
Al-Aloul said: As long as there is an occupation, resistance is a right and an obligation, and as long as there is an invasion of our cities, our villages, and our refugee camps, it is our right to defend our people."
Jamil Al-Amouri, Wisam Abu Zaid, Adham Yasser Aliwi, and Tayseer Mahmoud Ayaseh – Israeli undercover forces attempted to arrest wanted Islamic Jihad terrorists Jamil Al-Amouri and Wisam Abu Zaid while they were hiding in Jenin next to a PA military intelligence building on June 10, 2021, in order to prevent the two from committing imminent shooting attacks after they had committed attacks in the previous months. The two attempted to flee, at which point the Israeli forces opened fire, killing Al-Amouri and wounding and arresting Abu Zaid. Because the Israeli forces were operating undercover, the PA Security Forces had not been notified in advance in order not to blow their cover, and as the Israeli forces were preparing to leave the area, PA military intelligence officers Adham Yasser Aliwi and Tayseer Mahmoud Ayaseh opened fire on them, possibly unaware they were Israeli security forces. The forces returned fire, killing Aliwi and Ayaseh. According to reports, video from the event shows someone at the scene shouting out to identify the Israeli undercover forces, but Aliwi and Ayaseh apparently continued to fire despite the shouts.
Bombing of Israel's National Water Carrier - On Jan. 1, 1965, Palestinian terrorists attempted to bomb Israel's National Water Carrier. This was the first attack against Israel carried out by Fatah. Fatah refers to the attack as the "Intilaqa", meaning "the Launch" of Fatah.
The Karameh battle, or Al-Karameh - On March 21, 1968, Israeli army forces attacked the town of Karameh in Jordan, where Fatah terrorists had been launching attacks on Israel. Although Israel prevailed militarily, Arafat used the event for propaganda purposes, declaring the battle a great victory that erased the disgrace of the 1967 Six Day War defeat.
The first Intifada - Palestinian wave of violence and terror against Israel 1987-1993, approximately 200 Israelis murdered
The second Intifada – PA terror campaign (2000-2005) in which more than 1,100 Israelis were murdered.
Fatah/Hamas Riot and Rocket War 2021 – On April 30, 2021, facing certain electoral defeat, PA Chairman Mahmoud Abbas cancelled the first PA elections scheduled in 15 years. Hamas, which expected to win the elections, denounced it as a "coup." In need of a conflict to divert public discontent, Abbas artificially generated a crisis over Jerusalem. His Fatah party called for "raising the level of confrontation," and Abbas' spokesman told Palestinians "the battle of all battles is here." Jerusalem Arabs responded by attacking Jews with rocks and Molotov cocktails. Hamas, Abbas' political rival, could not allow Abbas to lead the battle, so on May 10, 2021, Hamas launched rocket barrages targeting Israeli population centers including Jerusalem. Over the next 11 days, Hamas and Islamic Jihad fired over 4,300 rockets into southern and central Israel from the Gaza Strip, killing 9 Israelis and 3 foreign nationals, and wounding hundreds. In response, Israel launched Operation Guardian of the Walls to target Hamas terror leaders and terror infrastructure in the Gaza Strip. Already in mid-April, a planned eviction of some Palestinian families illegally living in Jewish-owned buildings in the Sheikh Jarrah neighborhood of Jerusalem had led to clashes between Palestinian residents and Israeli police. This dispute provided Palestinians with a pretext for violent rioting. Adding to the crisis, Israeli Arabs started rioting throughout Israel, especially in cities with a mixed Jewish and Arab population. Two Jews were murdered and many were wounded. According to Walla, an independent Israeli news site, 10 synagogues were wholly or partly burned down; fires were set in 112 Jewish homes and 1 Arab home mistaken for a Jewish home; 386 Jewish homes were plundered and 673 were damaged; 849 cars were set ablaze; and there were 5,018 rock-throwing attacks. In response, Jews started attacking Arabs and their properties as well, but on a much smaller scale. No mosques were burned; 13 Arab homes were damaged; 13 Arab-owned cars were burned; and there were 41 rock-throwing attacks by Jews. [Walla, May 16, 2021] The fighting between Israel and Hamas ended with a ceasefire on May 21, 2021.