Female terrorist murderers "bring pride and honour to the homeland" proclaims Fatah
Image and text posted on the Facebook page of the Fatah Commission of Information and Culture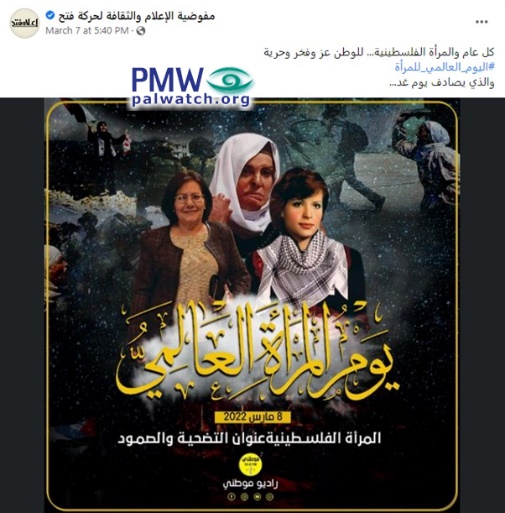 Posted text: "Every year may the Palestinian women bring pride and honor to the homeland and provide it with freedom
#International_Women's_Day
Which takes place tomorrow [March 8, 2022]"
Visual:
The image shows female terrorists Dalal Mughrabi, who led the murder of 37, 12 of them children; Israa Ja'abis, a bomber who wounded 1 person; and Theresa Halsa, a terrorist plane hijacker.
Text on image: "International Women's Day
March 8, 2022
The Palestinian women are the symbol of sacrifice and resolve
[Fatah radio station] Radio Mawtini"
Dalal Mughrabi – female Palestinian terrorist who led the most lethal terror attack in Israel's history, known as the Coastal Road massacre, in 1978, when she and other Fatah terrorists hijacked a bus on Israel's Coastal Highway, murdering 37 civilians, 12 of them children, and wounding over 70.
Israa Ja'abis – 31-year-old female Palestinian terrorist, resident of East Jerusalem, who carried out a car bomb attack near Ma'ale Adumim, a few kilometers east of Jerusalem, on Oct. 11, 2015. A policeman who noticed a suspicious vehicle signaled for the driver to stop, after which she drove closer to a group of police officers and detonated a gas balloon. One policeman suffered light injuries and Ja'abis was seriously injured. 
Theresa Halsa – 17-year-old female Israeli Arab terrorist and a member of the Black September terror organization, a secret branch of Fatah, who participated in the hijacking of Sabena flight 571 from Vienna to Tel Aviv in May 1972. When the plane landed in Israel, the terrorists demanded the release of 315 Palestinian terrorists from Israeli prisons. Israel mounted a rescue operation led by Ehud Barak (who later served as Israeli Prime Minister), in which Benjamin Netanyahu (who also later served as Israeli Prime Minister) participated. During the rescue the two male hijackers, Ali Taha Abu Snina and Abed Al-Aziz Atrash, were killed, and one passenger, 22-year-old Miriam Anderson, was also killed accidentally. The two female hijackers, Rima Tannous and Theresa Halsa, were captured and sentenced to life imprisonment – Halsa for 220 years. They were released in November 1983 in a prisoner exchange. Halsa was expelled to Jordan where she lived until she died of cancer on March 28, 2020.