PA lauds terrorist Dalal Mughrabi on the anniversary of her lethal bus hijacking
Headline: "44 years since the death as a Martyr of female fighter Dalal Mughrabi"
"Yesterday [March 11, 2022] was the 44th anniversary of the death as a Martyr of female Palestinian fighter Dalal Mughrabi (i.e., terrorist who led the murder of 37 people, 12 of them children)…
On the morning of March 11, 1978, Mughrabi and her squad disembarked from two boats on the Palestinian (sic., Israeli) coast, and they succeeded in doing this without the Israelis succeeding in exposing them because they did not correctly estimate the Palestinians' courage.
Dalal and her squad succeeded in going towards Tel Aviv and taking control of a bus with all its soldier passengers (sic., civilian passengers), while the confrontation with other Israeli soldiers outside the bus continued (sic., there was no confrontation with soldiers during the hijacking of the civilian bus). This operation led to hundreds of killed and wounded on the Israeli side (sic., 37 civilians were murdered and over 70 were wounded). In light of the high losses, the Israeli government appointed a special squad from the army commanded by [then Israeli commander and later Israeli Prime Minister] Ehud Barak in order to stop the bus and kill and arrest those on it. They used planes and tanks to surround the self-sacrificing fighters, which caused Dalal Mughrabi to blow up the bus and its passengers leading to the deaths of the Israeli soldiers (sic.)."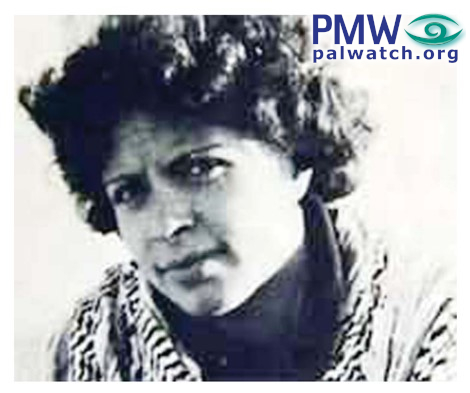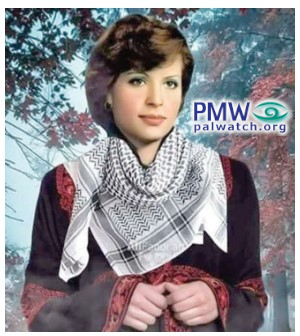 The article includes images of terrorist Dalal Mughrabi.
Dalal Mughrabi – female Palestinian terrorist who led the most lethal terror attack in Israel's history, known as the Coastal Road massacre, in 1978, when she and other Fatah terrorists hijacked a bus on Israel's Coastal Highway, murdering 37 civilians, 12 of them children, and wounding over 70.