Fatah tries to gain support for upcoming PA elections by promising that they are a party of terror and violence
Image and text posted on the Facebook page of the Fatah Movement – Nablus Branch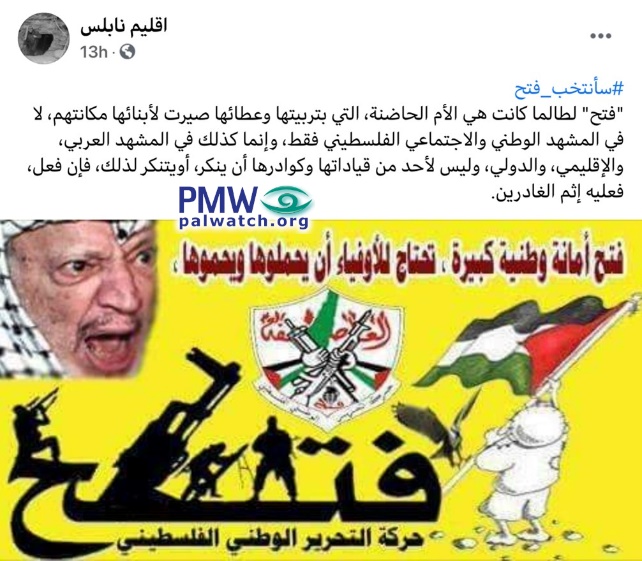 The image shows former PLO and PA Chairman Yasser Arafat in the upper left corner, and in the center is the Fatah logo that includes a grenade, crossed rifles, and the PA map of "Palestine" that presents all of Israel together with the PA areas as "Palestine." At the bottom is text in black reading: "Fatah – the Palestinian National Liberation Movement," which includes silhouettes of an assault rifle, men carrying and aiming rifles, and a man firing a mortar.
In the top right is text in red reading: "Fatah is great national loyalty – and it needs loyal people who will bear it and defend it." In the bottom right is the cartoon character Handala who symbolizes the Palestinian refugee issue, and he is carrying a Palestinian flag.
Posted text: "#I_will_vote_for_Fatah
Fatah has always been the embracing mother, who with her education and giving has provided her children with their status – not only in the Palestinian national and social arena, but also in the Arab, regional, and international arena, and not one of its leaders or members can deny this. And if they do, they bear the guilt of the traitors."
Yasser Arafat – Founder of Fatah and former chairman of the PLO and PA. During the 1960s, 70s and 80s Arafat was behind numerous terror attacks against Israelis. Although he received the Nobel Peace Prize in 1994 together with then Israeli Prime Minister Yitzhak Rabin and then Israeli Minister of Foreign Affairs Shimon Peres "for their efforts to create peace in the Middle East" after signing the Oslo Accords peace agreement, Arafat launched a 5-year terror campaign - the second Intifada (2000-2005) – in which more than 1,000 Israelis were murdered. Arafat died of an illness in 2004.