The bottomless UNRWA pit of despair
According to the Palestinian Authority Prime Minister Muhammad Shtayyeh the United Nations Relief and Works Agency for Palestine Refugees in the Near East (UNRWA) will continue to function "until the refugees return." In other words, what Shtayyeh is saying is that UNRWA will continue to function forever, catering to an ever growing population.
"Yesterday, Prime Minister Muhammad Shtayyeh discussed UNRWA's severe financial situation and the monetary deficit in its budget with UNRWA Commissioner-General Philippe Lazzarini and UNRWA Adviser on Strategic and Diplomatic Policy Ronald Stinger… Shtayyeh said: 'We are working together to ensure the continuation of UNRWA's programs and its continuation as an international institution that over 5.5 million Palestinian refugees benefit from until a just and permanent solution is found for the Palestinian cause and until the refugees' return.'"

[Official PA daily Al-Hayat Al-Jadida, March 4, 2022]
As Palestinian Media Watch has already shown, the so-called "return" of the "Palestinian refugees" is a PA euphemism for forcing Israel to fundamentally change its demographic composition by settling and giving citizenship to an additional six million Arabs who have never set foot in Israel.
The number of "Palestinian refugees" has grown from 711,000 in 1948 to a staggering 5,703,546, as of December 31, 2020. Outrageously, since 2010 alone, the number of "Palestinian refugees" has risen by 883,317 people.
In comparison, two days after the establishment of the State of Israel, the headline of the New York Times declared that Jews were "in grave danger in all the Moslem lands" and that 900,000 would "face the wrath of their foes":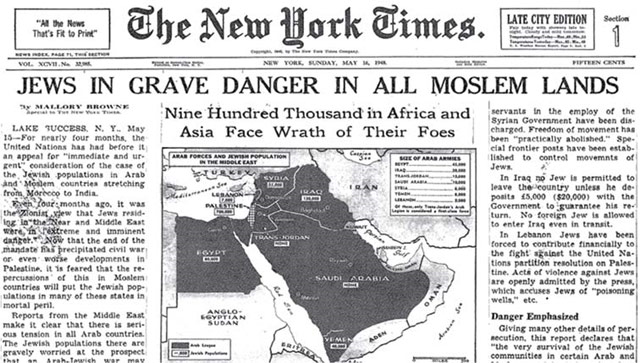 [The New York Times ,May 16, 1948]
According to the Israeli Ministry of Foreign Affairs, from the period of the creation of the State of Israel through the 1970's, 850,000 Jews were forced to become refugees and flee their homes in the Arab countries. While neither the Jews who survived the Holocaust nor those who fled the Muslim countries when Israel was established, were able to return to their homes, today the only Jewish refugees are those currently fleeing the war in the Ukraine.
While the number of the so-called Palestinian refugees continues to grow, UNRWA's already limited finances will have to stretch even further. As PMW has already noted, UNRWA is not only a nursery for growing refugees and a bottomless pit for international money, it is also a prison for over 100,000 new refugees born every year.
In the same way as the Jewish refugees found refuge in Israel, the time has come for the Arab countries - the countries who have hosted the Palestinian refugees for the last 73 years - UNRWA, and the PA to stop using the refugees as pawns in their scheme to destroy Israel. It is time they accepted that Israel will never agree to commit national suicide and will never agree to let the millions of Palestinian "refugees" flood Israel.