PA wrongfully compares Israeli Arab killed upon entering site of active shootout to innocent citizen George Floyd
Cartoon published by the official PA daily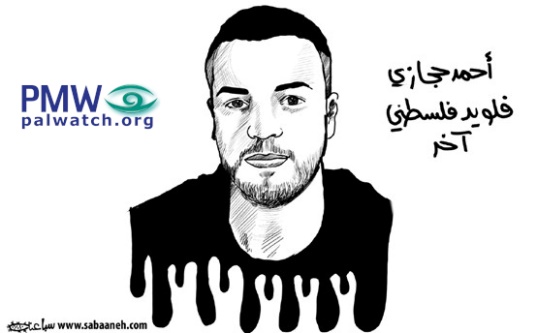 Text on cartoon: "Ahmed Hijazi – another Palestinian [George] Floyd"
The cartoon shows a drawing of Ahmed Hijazi, with the black of his shirt dripping down like blood.
Ahmed Hijazi was accidentally shot by police after entering the site of an active shootout between police and several criminals armed with assault rifles in the Israeli Arab town of Tamra in northern Israel on Feb. 1, 2021.
The cartoon refers to the death of African American US citizen George Floyd in Minneapolis, Minnesota, on May 25, 2020. Floyd was killed by a white police officer named Derek Chauvin who kneeled on his neck for almost 9 minutes when arresting him, ignoring his pleas that he could not breathe. Following Floyd's death, violent protests erupted across the US. Officer Chauvin has since been charged with second degree murder and manslaughter.